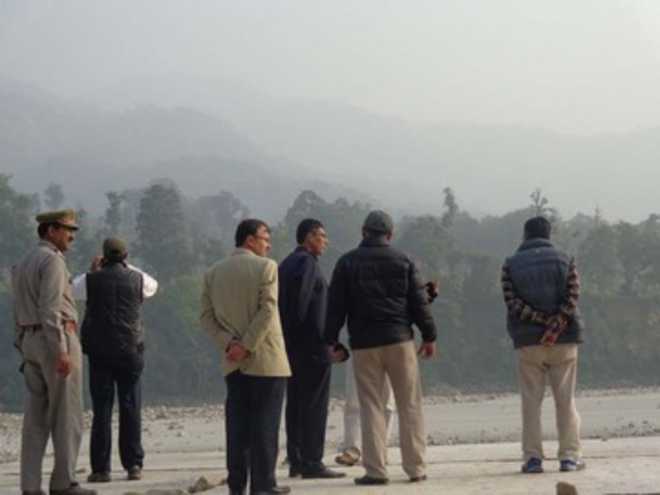 Jotirmay Thapliyal
Tribune News Service
Dehradun, January 2
In a major boost to wildlife conservation, India and Nepal have joined hands to secure the key Boom-Brahmadev corridor that connects the Haldwani forest division in the state and the Kanchapur forest division in Nepal. The corridor holds much significance as a critical passage for the wildlife, including elephants and tigers.
To plan trans-border efforts for the restoration of the health of the Boom-Brahmadev corridor, the WWF-India's Terai Arc Landscape (TAL) Office organised a field-level meeting between Nepalese and Indian forest departments in December last year. The meeting agreed on joint initiatives to restore the functionality of the Boom-Brahmadev corridor and work with local communities to minimise incidents of human-wildlife conflicts in the area.
Further, it was decided at the meeting to prepare a joint document to identify patterns of wildlife movement, record threat analysis and provide possible routes for the restoration of this corridor. Both Indian and Nepalese officials also intended to work with local communities of Khall village in Kanchapur forests in Nepal and Thawal Khera village on the Indian side to implement these plans. Since 2004, the expansion of human settlements around the Kanchapur forest division in Nepal has resulted in frequent incidents of human-wildlife conflicts in nearby villages such as Thawal Khera and Uchouli Goth on the Indian side of the corridor.
Vita information on various ecological, socio-economic, and conflict aspects, and use of traditional routes by elephants from Kilpura-Khatima forests to Melaghat and Chandni Dhaudhra were discussed. The meeting was followed by a field visit to the critical bottleneck region of the Boom-Brahmadev corridor.
Dr Harish Guleria, Head, Terai Arc Landscape, Uttarakhand, WWF-India, told The Tribune that restoring the corridor would immensely benefit the wildlife, including elephants and tigers, and link critical wildlife habitats of the Nandhaur Wildlife Sanctuary in Uttarakhand to Churia hills in Nepal. He said securing this key corridor would also reduce human-animal conflicts in the region.
Guleria added the WWF had been working in the Terai region for more than a decade now. The WWF India had been supporting government agencies in strengthening law enforcement, monitoring and research and working with local NGOs to reduce human-wildlife conflicts through the establishment of effective compensation mechanisms and promoting environment awareness among the communities and policymakers on conservation. It was also working with local communities for improvement in livelihood opportunities.
From Nepal, Bed Kumar Dhakal, Chief Warden, Shuklaphanta Wildlife Reserve, Mahendernagar; and Pashupati Nath Koirala, District Forest Officer, Kanchanpur, Mahendernagar, and Rajesh Kumar Srivastav, Terai east forest division, and Dr Harish Guleria from India took part in the deliberations.
Top News
Major infrastructure damaged, road to vital North Sikkim lea...
Says poor largest segment in country, deserve first right on...
The Canadian allegations regarding India's involvement in th...