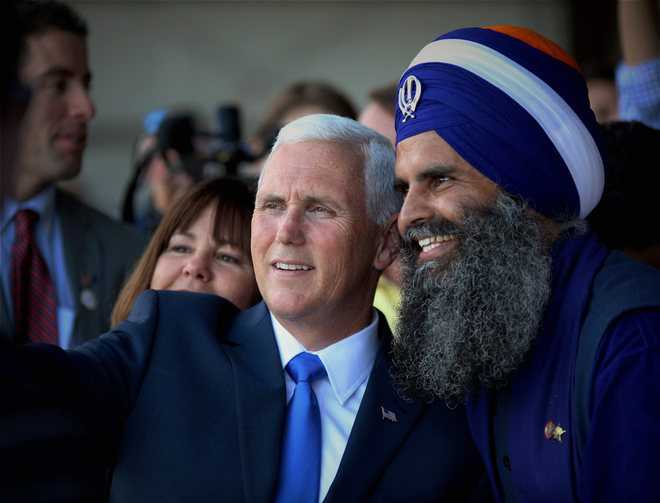 Washington, March 9
Indo-US ties will touch new heights under the Trump administration as the two countries are "natural partners" and have common interests amid China's assertiveness in the Asia-Pacific region, an Indian-American entrepreneur considered close to Vice-President Mike Pence has said.
"Both India and the US have an interest in fighting terrorism originating in central Asian areas such as Pakistan and Afghanistan," said Indiana-based Gurinder Singh Khalsa, founder and chairman of Sikhs Political Action Committee (SikhsPAC).
"It is to India's long-term benefit to continue improving relations with the US. We also have many shared business priorities, particularly in IT and tech industries," he said.
Khalsa, a businessman, has been Pence's friend from the days when the latter was not even elected Indiana Governor.
Khalsa said he wanted to focus on strengthening India-US ties and be the voice of Indian-Americans and other such ethnic communities in the US.
"Pence has been very outspoken about the need for more economic cooperation between India and Indiana. Prior to becoming Vice-President, he spoke to us about his intention to travel to India after the election. He wanted to be the first Indiana Governor to visit India," he said.
Born in 1973, Khalsa moved to the US in 1996 after writing four research papers.
Prior to moving to Indiana in 2008, Khalsa spent five years in the real estate, insurance and finance sectors in California. Since 2003, he has developed a chain of businesses throughout California, Nevada and Indiana.
In 2007, a TSA agent in Buffalo, New York, refused to allow Khalsa on an airplane unless he removed his turban. "This was a clear violation of the Sikh religious practice," he argued, adding that he refused and took the issue before the Congress, where he successfully lobbied for changes to the TSA headwear policy. — PTI