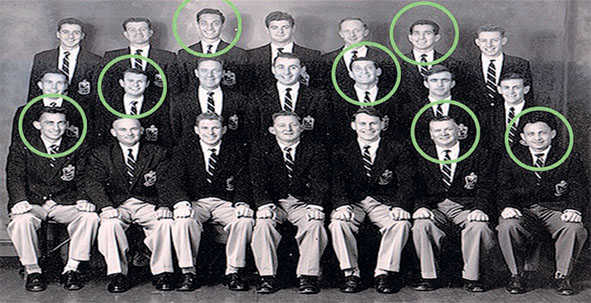 As the sea is sighted at Freemantle, close to Perth in Western Australia, the driver-guide, mindful of his Indian audience, announces with a flourish: "And that, gentlemen, is the Indian Ocean!"
The waters of the Indian Ocean wash the sands of Freemantle, but there's a much stronger, more human connection between Freemantle and India than just shared waters.
When the great Indian hockey team played Australia, novices then, in the 1956 Olympics in Melbourne, there were five Anglo-Indian players on the green. But only one was playing for India — captain Leslie Claudius. Four, recent migrants from India, were representing Australia.
With Independence for India came anxiety for the nation's Anglo-Indian community. It's estimated that their number was 300,000 — a third of them departed during 1947 or soon after. Most went to Great Britain, but a significant number came to Australia. Anglo-Indians were the buffer between the British and the "natives". They were the people who turned the great wheels of the Raj, manning the Railways, Telegraph, Customs, Army and Police. And they also excelled in sports — migrants to Australia contributed vitally in making that country a hockey superpower.
Ric Charlesworth, the great Australian hockey player and coach, rattles off the names — the Pearce brothers, Fred Browne, Merv Adams, Trevor Vanderputt, Don Smart, Terry Walsh, Paul Gaudoin. These are some of the prominent Anglo-Indians Charlesworth associated with as a player or coach.
"The Indians, and Pakistanis, were the greatest players of hockey at that time," says Charlesworth. "They were the great innovators in the sport, the equipment was made in Sialkot and Jalandhar. The migrants brought with them their knowledge."
Charlesworth says that the Australian style of hockey, before it was influenced by the Anglo-Indians, was "pretty European". "The Anglo-Indians brought in more finesse, different skills," he says. "So Australia's game is hybrid — more robust, but also giving emphasis to the skills, what we associated with Indian hockey."
Hockey had been played in Australia, and there had been Anglo-Indian players and coaches before 1947. But it got a huge boost from the Anglo-Indian influx after India's Independence, especially in Western Australia.
Perth, on the western edge of the country, is the loneliest big city in Australia, closer to some Asian cities than Australia's own large cities. "It being closer to Asia than other Australian cities, the first port of call for Indians in Australia was Freemantle, and a very large number of them settled in Western Australia," says Charlesworth.
Among them were great coaches like Vanderputt, Browne and Adams, whose mentorship resulted in Western Australian becoming a hockey powerhouse. When the Anglo-Indian influence was at its peak, with the Pearce brothers in action, the state won the country's top championship eight times in nine years from 1962 to 1970.
Many Australians started playing hockey after being inspired by migrant coaches. Michael Nobbs, the former Australian player who coached India, was one of them. "I still remember the day I fell in love with hockey, when as a boy I watched an Indian coach dribble the ball so fast that I could barely see the ball!" says Nobbs.
Charles Gaudoin landed in Perth in 1970. "When we arrived, we had only $7, which was what the Indian government allowed migrants to leave with," says Gaudoin. In India, his father worked with the Central Excise and Customs department. "He was an excellent sportsman, he'd played with all those top players like Leslie Claudius," says Gaudoin, who was the key man behind the formation of an Anglo-Indian hockey club, the Harlequins, in Perth.
Over the years, tens of Anglo-Indians have played hockey for Australia. The most remarkable were the five Pearce brothers — Cec, Eric, Julian, Mel and Gordon. There have been many others, like Dick Carr, Don Smart, Kevin Carton, Ray Whiteside, Godfrey Phillips, Paul Gaudoin (son of Charles Gaudoin) and Chris Ciriello.
Ciriello, whose mother was born in Kolkata, scored a hat-trick when Australia beat the Netherlands in the World Cup, and also when Australia beat India in the final of the Commonwealth Games, both last year. "One of my first coaches, in basic skills, was my grandfather," says Ciriello. "My basic skills are very good, and that's because of him."
Ciriello's grandfather is Rudolph Pacheco, who played hockey for India before migrating to Australia. "He was quite high-up in the Customs, and always talked about how great it was to play hockey for a job in India in those days!"
Ciriello says that there was a distinctive style the Anglo-Indians brought to Australia. "My best man is an Anglo-Indian too, and his dad also played in India," he says. "With him too you can see the different skills, in terms of movement and controlling the ball."
Charles Gaudoin, a long-time coach who's coached in India as well, says that the Anglo-Indians, with skills, also brought in an element of mental toughness, without which migrants can't flourish. "There were times we had lots of regrets about leaving India," he says. "My mother missed India enormously, the lifestyle we had there…"
There were racial tensions as well. In India, while the Anglo-Indians were seen as close to the white British rulers, Gaudoin didn't feel that there was resentment towards them after Independence. "In fact, it was far greater here!" he says.
There was racist name-calling, he recalls, and it sometimes happened on the field of play as well. "The Anglo-Indian mentality is to fight back, but we would fight back with our fists!" he says. "We were hot-blooded, but we were good. And we would not only beat them on the field, but also off it, with our fists!" They're now all friends, says Gaudoin, because with time people learn to forgive the anger and mistakes of youth.
The Anglo-Indians were able to integrate quite well, better than other Indians or Europeans. There were key reasons for that, including the proximity of language, culture, religion, for Anglo-Indians are mostly Catholic or Anglican Christians. Plus, they excelled in sport, a unique unifying factor. They were excellent in sport, and sport wins friends everywhere.
Top News
The former military ruler had left Pakistan in March 2016 fo...
After his failed misadventure in Kargil, Musharraf deposed t...
Military shoots down the surveillance balloon in Atlantic Oc...
The incident took place on Friday when Kambli reached his fl...
Dearness allowance for employees and pensioners are worked o...