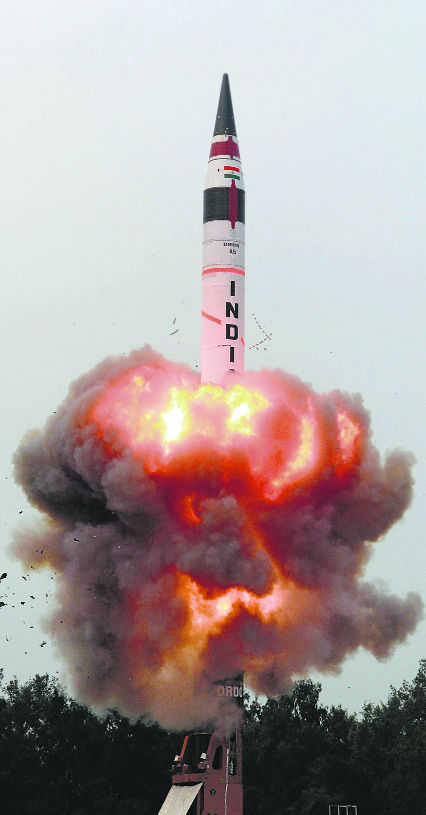 THE 'Make in India' story in the defence equipment sector underlines a dichotomy — the country has leapfrogged in some areas while struggling with some basics. On November 5, 2018, India announced that INS Arihant, a nuclear submarine based on niche technology, was fully operational. However, it does not produce its conventional (diesel-electric) submarine that is far less complex to make. It has made its aircraft carrier, again a niche technology, but opted not to make a 'minesweeper', a ship that detects undersea mines laid by the enemy.
Another irony is that while India makes and launches its satellites and nuclear missiles, but it is still looking at a foreign vendor for a rifle, the basic weapon of the infantry troops. "During the past three years and up to October 2018, of the 188 contracts, 121 have been signed with Indian vendors for procurement of defence equipment," the Ministry of Defence recently informed Parliament.
The Stockholm International Peace Research Institute (SIPRI), in its annual report-2018 'Trends in international arms transfers', made an assessment for a five-year block (2013-2017). It said: "India was the largest importer of major arms and accounted for 12 per cent of the global imports." Efforts, so far, to make a military-industrial base have remained sluggish, hampered by budgets and a lack of cutting-edge technology.
Rising ambition
On March 22, 2018, the Defence Ministry laid out an ambitious draft defence production policy. It talks of making India one of the top five countries in the aerospace and defence industry. It also talks about self-reliance in key technologies by 2025 and puts India on the exporter track. It sets a target of Rs 1.7 lakh crore turnover in defence goods and services involving an extra investment of nearly Rs 70,000 crore. It looks at achieving exports worth Rs 35,000 crore by 2025.
In December last, the SIPRI, for the first time featured four Indian firms — Indian Ordnance Factories, Hindustan Aeronautics Limited (HAL), Bharat Electronics Limited and Bharat Dynamics — among the world's top 100 arms producers for 2017.
Fruitful partnerships
The Dhruv helicopter, now tasked for the Siachen ops, flies on engines made by Snecma France in a joint venture with HAL. Almost the entire warship fleet, though produced in India, has imported engines. Italian shipbuilder Fincantieri helped in designing, but used Indian steel for INS Vikrant. The engines are made by General Electric. The Scorpene submarine is built in a joint venture with France. Russian equipment such as Sukhoi 30MKI jets and T-90 tanks are licence-produced in India. Future JVs include the production of Kamov 226T Russian copters by HAL.
Local success stories
HAL is making the first 40 Tejas fighter plane. The 83 upgraded Tejas are also coming in. Another 201 Tejas Mark II fighters are also on the drawing board. The Dhanush artillery gun is set to be inducted and the Advanced Towed Artillery Gun System, designed by the DRDO and produced by two Indian companies, has been approved by the Army, which is getting 40 guns for trials. The forces need some 800 helicopters; 200 Advanced Light Helicopters Dhruv are already flying; two regiments of Arjun tanks have been inducted. The Army wanted 93 improvements. Arjun Mark 1-A is also undergoing validation trials.
The BrahMos and the Agni missiles are a success story. The BrahMos is an Indo-Russian venture that arms the lead warships of the Navy. Nuclear-tipped Agni missiles have propelled India into an exclusive club of nations having such missiles. — AB
Top News
Premises connected to news portal's journalists raided; 46 s...
Prime Minister accuses BRS dispensation of 'looting' funds m...
This is the gist of the letter sent by CM to Banwarilal Puro...
Also said that it's important for Canada to have diplomats o...
Petitioner contended that the nature of information sought i...