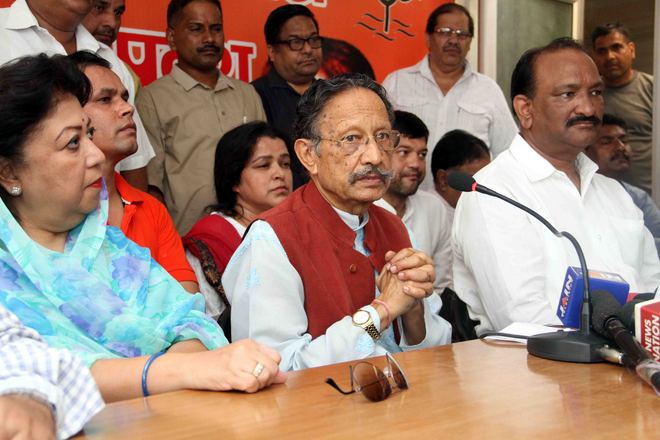 Tribune News Service
Dehradun, September 10
Pauri Garhwal parliamentarian BC Khanduri today said the tussle between two ministers in the Harish Rawat Cabinet was responsible for the delay in the Rudraprayag Sainik School project.
"Both the Congress ministers are fighting over the school and want their respective departments to take responsibility for the construction of the school, which can only be under one department. As a result, there has been a delay in signing the memorandum of understanding (MoU) between the Centre and the state," Khanduri said at a press conference.
He said the Government of India had sanctioned the project in November 2014 but an (MoU) was yet to be signed between the Centre and the state. "They are unnecessarily creating hurdles, not realising that it will take only a few minutes for the Centre to cancel the project. They are oblivious of the interests of numerous children from Uttarakhand who can gain immensely from the school," he stated.
Khanduri said he had personally written to the Chief Minister on the issue but there had been no response from his side. Khanduri, a former chief minister, was also critical of the manner in which the facilities extended to the former chief ministers by the state government were withdrawn.
"The government should have given some time to the former chief ministers to respond to the notice. I think it was not in good taste. The order was sudden, some of us were on tour and were asked to submit the vehicles," said Khanduri.
He also slammed the Congress Government for failing to appoint the Lokayukta in the state, which in turn had emboldened the corrupt.
"The Congress Government lost no time in debunking the Lokayukta Act, passed by the BJP Government, and bringing its own Act, but has now developed cold feet in appointing the Lokayukta. The government is trying to shield the corrupt, knowing fully well that the appointment of Lokayukta will turn the gaze on the corrupt," he said.
On the issue of the implementation of one rank one pension (OROP), Khanduri said Prime Minister Narendra Modi had accepted all the demands of the ex-service men.
Top Stories