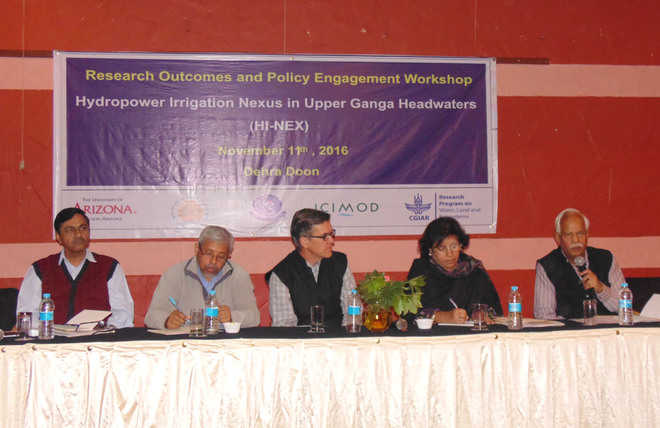 Tribune News Service
Dehradun, November 11
Rashmi Shreshtha, senior scientist of the International Centre for Integrated Mountain Development (ICIMOD), today said genuine participation of local people in planning hydropower projects, sharing of project benefits, and grievance redressal mechanisms can be the keys to expediting hydropower development in Uttarakhand.
She addressed a workshop titled 'hydropower irrigation nexus in upper Ganga headwaters' organised jointly by University of Arizona, USA, People's Science Institute, Dehradun, Shaheed Bhagat Singh College, University of Delhi, and ICIMOD. Shreshtha asserted that people were suspicious of hydropower projects and that was the reason even hydropower developers were also a frustrated lot.
University of Arizona Professor Dr Chris Scott presented an overview of the research project. He said social and environmental impacts from hydropower projects were often overlooked. "They have disproportionately greater impact on the marginalised populations, which is largely overlooked," he said.
People's Science Institute's Director Dr Debashish Sen presented field data to show that the impact of the projects in the Bhilangana basin was greater on the slopes where tunnels or channels had been constructed to divert water from the river to the power house. "These effects include loss of irrigated land, decrease in agricultural productivity, drying of springs and increased hardships for women who gather resources for daily sustenance for their families and cattle," Sen pointed out.
Uttarkhand Renewable Energy Development Agency's chief project officer AK Tyagi spoke about UREDA's electrification of remote rural areas using mini and micro hydropower projects. He emphasised the need for specific guidelines for environmental and social impact assessment of small hydropower projects.
Former Uttarakhand Chief Secretary SK Das called for aggressive social mobilisation so that developers, government and the community can work together for hydropower development.
Manoj Kesharwani from Uttarakhand Jal Vidhyut Nigam Limited said the new state policy in 2015 for hydropower development in the state had increased the Local Area Development Fund from one per cent of the approved project cost to three per cent.
Dr Piyoosh Rautela from Disaster Mitigation and Management Centre, Dr Prakash Nautiyal from HNB Garhwal University and Dr Malavika Chauhan of Himmothan Society participated in the workshop.
Top News
Harried passengers take to social media to vent their ire at...
Lapid had stirred a massive controversy by terming Vivek Agn...
Final turnout to be higher as voting process continued at po...
DigiYatra will provide seamless entry and embarkation proces...
His song 'Mahakaal' removed from YouTube after 19 hours