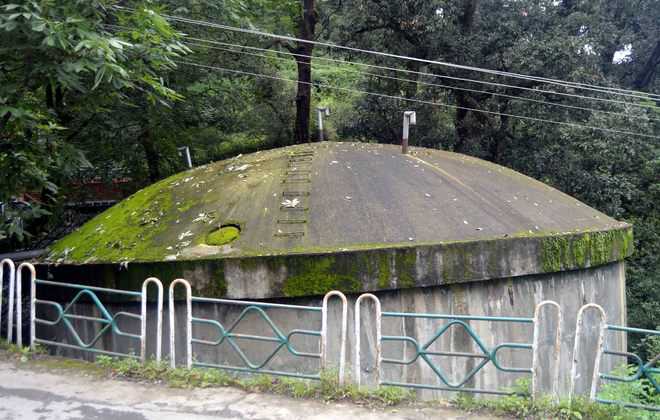 Kuldeep Chauhan
Tribune News Service
Shimla, August 29
More than 95 per cent of about 50,000 water storage tanks of the Irrigation and Public Health (IPH) Department that supply water to towns and rural areas across the state have no fencing and locking provision, leave alone CCTV cameras to check anti-social elements.
Reason: The IPH Department is yet to put in place a proper standard operating procedure (SOP) under the Water Manual for the "safety, cleaning of storage tanks to ensure quality water to the residents".
The recovery of the remains of four-year-old Yug from the Keleston water tank maintained by the Shimla Municipal Corporation (SMC) has not only exposed the SMC's shoddy cleaning of the water tanks in Shimla, but also the IPH Department's slack approach towards cleaning the storage tanks.
Only 5 per cent of the IPH storage tanks in the state are fenced and secured, show the inputs gathered by The Tribune. Most of the water storage tanks under the IPH have no proper gates and fencing.
This makes them an easy target for criminals and anti-social elements as it happened in the Yug murder case, revealed the sources.
The Central Public Health Engineering Organisation (CPHEO) has issued the SOP and guidelines for the IPH to provide safe portable water to the resident under the Water Manual. The CPHEO has also issued guidelines for cleaning and treatment of sewage treatment plants in the country, revealed IPH engineers.
It was after direction from the High Court that the IPH and Shimla Municipal Corporation started checking water samples on a regular basis before supplying water to the residents. It has also directed to the State Environmental Protection and Pollution Control Board (SEPPCB) to check water quality of sewage water being discharged after treatment at sewerage treatment plants into the khads and rivers.
Though the SMC has taken steps to put all its 47 water tanks under lock and key and other key storage tanks under CCTV cameras to check its misuse by the unscrupulous elements, the IPH has yet to wake up from its slumber to do this exercise in other key towns in the state.
Shimla Mayor Sanjay Chauhan said the corporation would put all water tanks under lock and keys within a week's time as the Municipal House has given its nod for it. "We will also fence the major tanks in due course of time".
Top News
Says unprecedented assault on corruption has angered those w...
As part of the special drive, the regulators have identified...
Behind him, Papalpreet Singh, who is said to be his mentor, ...
Punjab CM accuses Jathedar of favouring the Badals; Giani Ha...
7 others, including Ahmed's brother Khalid Azim alias Ashraf...