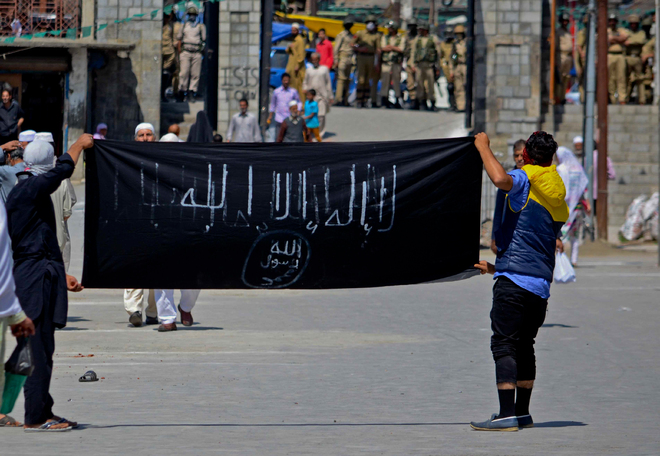 Tribune News Service
Srinagar, June 12
Pakistani and ISIS (Islamic State) flags today appeared in downtown Srinagar following a Friday sermon by moderate separate leader Mirwaiz Umar Farooq in which he warned of an agitation if the ongoing campaign to retrieve forest land was not stopped.
As soon as the Friday prayers were over, a group of masked youth carrying a black ISIS flag and a Pakistani flag appeared in the Jama Masjid area this afternoon.
Some of the youth also indulged in stone-throwing. The situation was soon brought under control by the security forces deployed in the area. So far no arrests have been made in connection with the latest raising of the ISIS flag. Earlier on May 22, Pakistani flags were raised during a protest by youth the same area.
Mirwaiz, while delivering his Friday sermon from the pulpit of Jama Mosque at the Nowhatta area of Srinagar, said: "We won't allow such conspiracies to succeed in which people belonging to a community in the Jammu region are forcibly being evicted from their lands and homes." He was referring to the anti-encroachment drive by the state forest department launched on the orders of Forest Minister Bali Bhagat.
Mirwaiz asked the government to stop this drive and also "rein in" the BJP and RSS elements, who he alleged were "targeting" a particular community in the region. He said people in Kashmir would not sit as silent spectators if such things continued.
Geelani, aides under house arrest
Leaders of hardline separatist faction Syed Ali Geelani, Ashraf Sehrai, Ayaz Akbar and Raja Mehraj-ud-din were placed under detention on Friday and prevented from participating in the scheduled funeral prayers for their slain party member Sheikh Altaf, who was killed by unknown gunmen in Sopore earlier this week.
A small number of party leaders and activists, however, held a demonstration at Pratap Park in Srinagar to protest against Altaf's killing. The demonstrators were later detained by the police.
Protests in north Kashmir
Protests and minor clashes were also reported from north Kashmir on Friday against the killing of Hurriyat activist Sheikh Altaf in Sopore earlier this week.
A protest demonstration was taken out from Jamia Mosque in Sopore up to Main Chowk (town square) soon after the Friday prayers, where clashes between the stone-throwing youth and the police were also witnessed, reports from the area said.
Protests and minor clashes were also reported from the Palhalan area in Baramulla district after the Friday prayers against the killing of the Hurriyat activist in Sopore by unidentified gunmen a few days earlier. However there were no reports of injury to anyone.
Top News
The Khalistan sympathiser said if the state government had t...
'Let us not be selective,' Solicitor General said while insi...
Counting of votes will take place on May 13
Deplores attempts by Rahul Gandhi to draw parallels between ...
Petitioner sought more time from the court for producing evi...