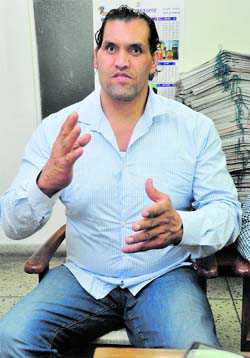 Sarbjit Dhaliwal
Tribune News Service
Chandigarh, February 10
The Great Khali, known for his professional wresting bouts with the Undertaker, another big name in the World Wrestling Entertainment (WWE), will soon be seen in a new role. He will be touring the countryside to campaign against the use of drugs. "Punjab has given me so much. It is time to pay back to the state as I feel highly obliged to the people of this region," said Khali while talking to The Tribune here today. "Years ago, I was a nobody. Now, I am a face recognized almost across the world", said Khali. "The state police provided me an opportunity and it helped me to be what I am today", said Khali who belongs to HP but has been serving as a Inspector in the Punjab police.
On March 5, Khali would organize a free-style wrestling competition at Ludhiana. For that competition, Khali has invited Justin Gabriel, Mike Knox, Crimson, Mike Huge, Brody Steele, Santana Garete, Renee Michelle, Apollo, Jinder Mahal, Karti Forbes and some others. "Some of them were earlier part of the World Wrestling Entertainment, but now they do free-style wrestling at an individual level", said Khali.
After the March 5 competition, I plan to start an academy at Ludhiana to train youths in freestyle wrestling. "I am doing this job at Jalandhar where 200 youngsters have joined my academy", said Khali. "In fact, three boys, Lovepreet Singh from Moga, Satinder Singh from Panipat and Akbar Ali from Chandigarh, who were trained at my academy, have already singed agreements with the WWE. They have got contracts worth crores of rupees", said Khali. Besides, four more boys, Lachmi Kant, Pankaj, Danish and Dinesh, have also been selected by the WWE, but they are yet to sign the agreement, he added. He said the best way to keep the youth away from drugs is to engage them in sports. "With this objective in mind, I am keen to set up academies at places, including Ferozepur and Patiala.
"However, government support would be required for this purpose because I charge a nominal fee and that also only from those who can afford to pay. Those who cannot pay, get training free of cost. As I am well versed in the art of free-style wrestling, I am keen to pass on this art to the coming generation", he said.
Khali said he would also take part in a march against drugs at Ferozepur by Congress MLA Parminder Singh Pinki on March 2.