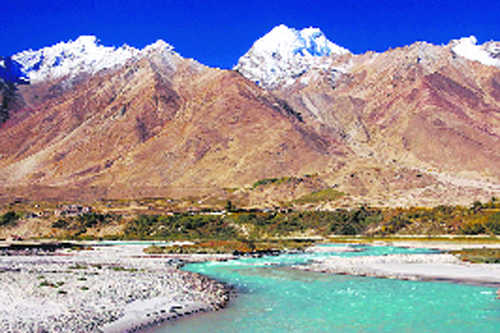 Tribune News Service
Srinagar/Leh, January 29
Kashmir Divisional Commissioner Rohit Kansal today said that all reports related to the blockage of Phuktal river have been submitted to the National Disaster Management Authority (NDMA). The reports have been prepared by the Deputy Commissioner and Executive Councillor of Kargil.
An NDMA team has already been constituted to assess the situation in the affected area. The team is expected to go there in a couple of days, Kansal said on his return from Leh after a two-day visit to review the situation.
The Phuktal river was blocked on December 31, 2014 due to a landslide. An artificial lake was formed near Marshun village, 90 km from Padum, the sub-divisional headquarters of Zanskar.
The situation is not alarming due to the frozen condition of the waters, the Divisional Commissioner said.
The administration is planning to establish a police detachment in Phuktal Gumpa to get regular updates about the situation in the area.
DC, Kargil, said that in case of the sudden bursting of the stored water from the artificial lake, a total of 29 villages in Kargil district would get affected.
The Divisional Commissioner has directed the Deputy Commissioners of Kargil and Leh to be ready with contingency plans to avoid any loss of life and property. He said this at Leh during a meeting to review the situation.
IGP Kashmir, AG Mir, Executive Councillor, Zanskar Affairs, LAHDC Kargil, Skalzang Wangail, DC, Leh, Simrandeep Singh, Deputy Commissioner, Kargil, Mohammed Sadiq Shiek, ADC Kargil, SE PWD, Kargil, and other senior officers were present at the meeting.