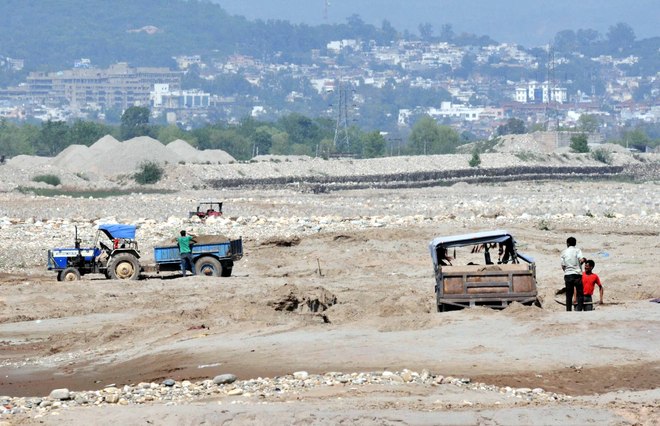 Sumit Hakhoo
Tribune News Service
Jammu, April 15
Jammu and Kashmir is losing nearly Rs 300 crore annually due to illegal extraction of sand, gravel and boulders from rivers as a nexus between sand and political mafia has forced the Geology and Mining Department to silently watch the unlawful extraction.
The department receives no help from the police to stop the practice.
Unabated extraction is also causing damage to strategic bridges, triggering floods and impacting the course of various rivers across the state.
Though the Geology and Mining Department has auctioned some of the sites for mining and received few crore as revenue in the form of royalty on minerals, a powerful lobby controls the sector. The lobby uses threat and political clout to scuttle any step to curb the activity.
Hundreds of tractors, trucks and mules can be seen stripping the river beds of the mineral wealth daily from unauctioned sites, close to several important bridges, despite repeated ban orders by the respective district administrations.
A source in the Mining Department claimed that there was no difference between extraction on the permit issued by the department and illegal activity as sand mining brought in tremendous profit.
"If a person has a permit to take one truckload of sand, he takes 10 truckloads. We are helpless to stop all this because of pressure from some quarters," said a senior official of the Mining Department.
Even reports of large-scale damages to railway and road bridges on the national highway due to illegal extraction has not stopped river mining and no action has been taken against anybody.
Assistant Manager, Geology and Mining Department, Mukhtar Ahmed blamed law enforcement agencies for the mess. "The police and the district administration have to take action and stop illegal mining. Our department does not have manpower. We have only 150 people across the state to deal with issues related to mining and cannot detain anyone," he said.
Mukhtar said the department was not an enforcer of law, but was dependent on other agencies, especially the police, to control extraction of minerals by unauthorised people.
"There have been instances when our employees were attacked while they were trying to prevent extraction," the official said.
However, none of the senior police officers was available for comment.
Meanwhile, uncontrolled extraction of minor minerals has been going on in rivers and rivulets in J&K, including Tawi in Jammu, causing damage to the basements and superstructure of the bridges over it. Similarly, in the Kashmir valley, unabated mining has been going on in the Jhelum and other streams.
Top Stories