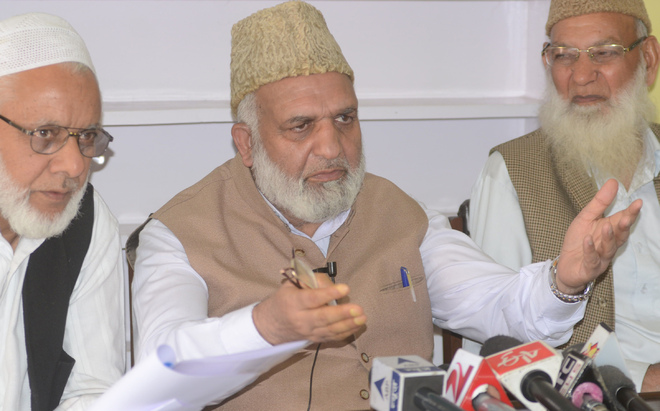 Tribune News Service
Srinagar, September 10
After taking over the reins of Jamaat-e-Islami, Ghulam Mohammad Bhat today said the religio-political party had no connection with militancy as they had their own policy to resolve the Kashmir issue.
"Jamaat has no connection with militancy as we have our own policies. We don't believe in underground activities," said Bhat while addressing a press conference in Srinagar.
"Even if our struggle for Kashmir resolution will continue for the next 100 years, we will fight it peacefully and democratically," he added.
Bhat, who was appointed as the party chief for the fourth term last week, was the first Jamaat chief to distance itself with militancy that resulted in a rift between hardline separatist leader Syed Ali Geelani and Jamaat in the late 90s.
"The Jamaat had no links with militant outfit Hizbul Mujahideen," he asserted.
He said the party never supported any political party during the elections and would not contest any future elections. "We can go for elections only when they are held under any third party's supervision or the United Nations," he added. Bhat said party members did not vote for the PDP.
"Jamaat members did not vote for the PDP. However, after we got reports that a few of our members did so, we took action against them. If Jamaat members had voted for them, Taragami (Mohammad Yousuf Taragami) would have never won from Kulgam as he is our ideological opponent," said the Jamaat chief.
Top News
Says poor largest segment in country, deserve first right on...
30 locations linked to news portal, journalists searched; di...