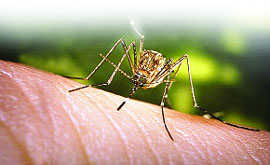 Satinder Pal Singh
Zirakpur, April 20
Japanese encephalitis, caused by a mosquito-borne virus, has claimed the life of a 20-year-old labourer at Lohgarh village here. This is the first death caused by the virus in Zirakpur this year.
The victim has been identified as Arshad. His blood samples had tested positive for Japanese encephalitis at the PGI. Dr Gagandeep Singh Grover, State Programme Officer, National Vector-Borne Disease-Control Programme, said the victim, Arshad, a resident of Bihar, was taken ill on April 5. He was admitted to JP Hospital, Zirakpur, on April 7 where his condition deteriorated. Arshad was referred to the PGI on April 9. He died on April 11.
Dr Grover said the patient had travelled to Bihar and might have contracted the virus there. He said there was no report of any other patient with symptoms of the influenza in the city.
"Since no pigs or rice fields were found in the vicinity of the victim's residence, the possibility of the virus circulating in the area has been ruled out," said Dr Grover.
The patient was the lone case of Japanese encephalitis in Zirakpur. Arshad complained of fever after returning from Bihar.
"The virus is transmitted to human beings from pigs that act as reservoir of germs via the bite of a mosquito called culex vishnui. There is no other way of transmission," said a senior doctor at the Civil Hospital, Dera Bassi.
Sources at the PGI said the victim's blood samples tested positive for the virus. The hospital authorities informed the Health Department as soon as they got the Japanese encephalitis test report of Arshad.
The sources said the victim was taken to a private practitioner in Panchkula after he complained of severe headache and nausea.
He was referred by the private practitioner to JP Hospital, Zirakpur, from where he was further referred to PGI in a serious condition. The hospital authorities had collected the blood samples and the report became available on Thursday, which confirmed the disease.
Dr Jai Singh, Civil Surgeon, Mohali, said teams had been asked to sensitise people to protecting themselves from the virus. " As soon as we came to know about the death due to the disease, fogging to prevent breeding of mosquitoes was started in the area," he said.