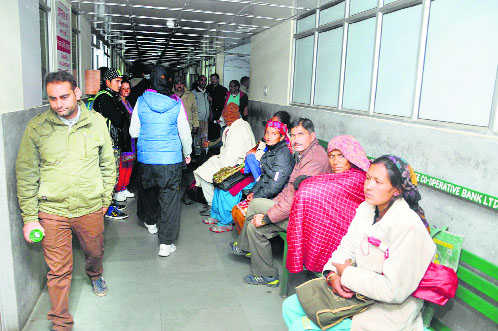 Tribune News Service
Shimla, January 6
More than 500 cases of jaundice have been reported in the city in the past few weeks.
Both Indira Gandhi Medical College (IGMC) and Hospital and Deen Dayal Upadhyay (Ripon) Hospital are receiving about 40 cases every day.
The Shimla Municipal Corporation has attributed the jaundice outbreak to sewage contamination in Ashwani Khud, which supplies potable water to one-third of the city's population.
Most of the jaundice cases have been reported from Chotta Shimla, Panthaghati, Vikas Nagar, New Shimla and Kasumpti, a health officer said. Patients suffering from jaundice are also from the suburbs of Sanjauli, Dhalli and other parts of the city, the health officer added.
According to doctors, the Hepatitis-E virus infection is caused due to contamination of portable water. The Ripon hospital is receiving about 20-25 patients of jaundice daily for past 15 days while the IGMC has received about 12-15 cases every day.
Jaundice is caused by the Hepatitis-E virus, said Dr Ranjna Rao, Chief Medical Officer (CMO), Shimla. "Patients are being advised to drink boiled water and have a non-fried diet," said Dr Ramesh Chand, Medical Superintendent, IGMC.
The city witnessed a rise in jaundice cases since the last week of December. "My daughter is suffering from jaundice for the past few days," said Kailash, a resident of Chhota Shimla.
"Once a patient begins to have a boiled diet, the virus cycle gets over and the patient is normalised," said Dr Ramesh Chand.
Deputy Mayor Tikender Panwar said effluents from the sewerage treatment plant in Malyana, located the vicinity of the Ashwani Khud drinking water scheme, was mainly responsible for water contamination.
He said he had lodged a criminal negligence complaint with the police against a contractor of the treatment plant on Tuesday. The contractor has been accused of discharging sewage in the rivulet without treating it. Panwar said the government-run treatment plant uses an outdated technology for reusing the water.
Sounding a note of caution, Panwar said the testing of potable water for virus causing hepatitis is not done as there is no such laboratory in the state.
He said quality of water supplied from the Ashwani Khud is not good, which is causing repeated epidemic in Shimla.
In 2007, 2010 and 2013, a large number people in the town tested positive for Hepatitis E, a liver problem caused by the consumption of water contaminated by sewerage.
Meanwhile, Irrigation and Public Health Minister Vidya Stokes said the government had taken preventive steps to check the further spread of jaundice.
She said water supply from the Ashwani Khud had been temporarily shut till the mixing of untreated water from the sewage treatment plant is plugged.
(With inputs from IANS)
Top News
Accident relief trains have been dispatched to the spot
Former British PM Winston Churchill and South African Presid...
WFI chief demanded sexual favours in lieu of supplements and...
Said agitation will be intensified by holding panchayats acr...
Vaishnaw said his ministry had recently launched the 'Sancha...