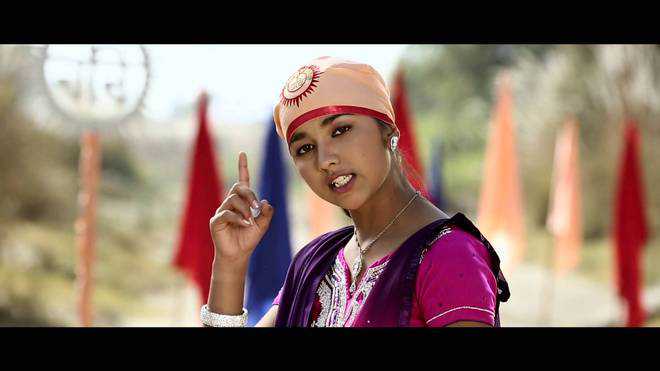 Amarjot Kaur
A genre of music has been quietly stirring up the 'Chamars' of Punjab to assert, and take pride in, their caste identity. Outside the cacophony of commercial Punjabi songs which objectify women, reinforce caste narratives, and promote gun culture, lies 'Chamar pop'.
Its latest sensation is a feisty-looking 17-year-old girl from Jalandhar, Ginni Mahi, who sings about the community being more dangerous than arms and ammunition.
The 'still upcoming' genre, which was first reported about in 2010, has its roots in Punjabi folk singing of the '60s and extols the virtues of powerful Dalit icons Guru Ravidass and BR Ambedkar. "Legendary Punjabi folk singer Narinder Biba was the first to pick up the subject. She sang about Guru Ravidass in 1978. Nusrat Fateh Ali Khan, too, sang a Qawwali on him," shares Roop Lal Dhir, a Chamar pop artiste from Garhi Ajit Singh village, Nawanshahr.
As we delve deeper, we stand acquainted with an annual religious procession at Bootan Mandi in Jalandhar that has taken the shape of a melting pot for singers who perform on the subject. Top singers like Hans Raj Hans and Miss Pooja have performed at Bootan Mandi Shobha Yatra, which has been taken out on the birth anniversary of Guru Ravidass since 1937. While Hans Raj Hans's famous rendition Do Patar Anaran De; Je Sanu Milan Hove Behde Aajan Chamara De sung in modified Punjabi folk style Mahaiya was a hit, the yatra witnessed missionary songs like Sare Kar Lao Eka Begumpura Vasauna Aa sung by Miss Pooja, and KS Makhan's Sanu Babasaheb Ne Dite Laike Haq Barabar De.
---
Prof Harish Puri, former professor of political science and the head of B.R. Ambedkar Chair, Guru Nanak Dev University, Amritsar, who has many research publications to his credit, including Dalit in Regional Context, says: "If others use the word 'Chamars', in a derogatory way, for Punjab-based Dalits, then it is taken as offence. Their songs are a way of saying that you can call us names, but we take pride in calling ourselves 'Chamars'".
"The assertion of Dalit identity in Punjab also reflects in several protests like the protest that broke out after the murder of Sach Khand guru, the violent protest at Talhan in 2002, and Sach Khand Balla becoming a major dera for Ravidasis. I feel, after migrating to foreign land, Dalits gained financial independence and experienced a sense of liberation and equality here in Punjab."
---
For starters
In 1985, Roop Lal Dhir, along with SS Azad, released his first cassette, Aisa Chahu Raaj Main, which featured six songs on Guru Ravidass' teachings and one on Ambedkar. "Marasis and bhaands would perform and entertain, but 'Chamars', at that time, feared annihilation from the village folks, so they chose not to sing. I wanted to evoke a positive consciousness for them to identify with," shares Dhir.
Raj Dadral, a Dalit singer from Aud village in Nawanshahr, has released over 18 'Chamar' pop albums since he first started singing in 2002. "I sing about them because nobody should feel bad in being called a 'Chamar'. As it is, Guru Ravidass mentions it several times in the Gurbaani. Most 'Chamars' are muzzled by upper-caste people, and are financially unsound. This is why they suffer self-esteem issues" he says.
For the teenaged 'Chamar' pop sensation from Jalandhar, Ginni Mahi, everybody is a 'Chamar'. "Going by the etymological meaning of 'Chamar', where 'Ch' stands for cham (chamdi/skin), 'ma' for mass (flesh), and 'r' for rakht (blood), everyone is made from skin, flesh, and blood. That is common for all humans."
Content yet?
Primarily, the content of 'Chamar' pop abides by the idealist dogma of Guru Ravidass's and Ambedkar's ideology, and the songs are structured on folk tunes (a trend that most Ambedkarites, who sing about Babasaheb's songs in Telegu, or even Marathi, identify with). In Punjab, Ginni Mahi's Main Thi Babasaheb Di and Fan Baba Sahib Di are a viral sensation, and so is Danger Chamar. When asked about the content of Danger Chamar, the lyrics of which read "Hunday asley toh vad danger Chamar ('Chamars' are more dangerous than firearms)", she says, "We don't threaten or insult anyone. The song just conveys we don't need weapons. Babasaheb penned the Constitution; so, a pen is mightier than the sword."
A similar undertone of aggression is present in Dhir's song Jo Khangeya Chamaran Mure Geya Tangeya (who tries to muzzle the 'Chamars' shall be hanged). "The song suggests that we aren't attacking anyone, but at the same time, we won't tolerate anyone bullying us," explains Dhir.
Haters will hate
J H Tajpuri, who started singing at All-India Radio in 1996, sang about 'Chamars' (Vekh Mele Nu) first in 2009. "None of the studios was ready to record the song. Neither was any label willing to release them. So, I recorded my own songs and released them under my label, Kapil Audio Video. I got many hate calls for it."
Dhir and Dadral too were at the receiving end, with people calling and threatening them. "My father died on the night of April 24, 2011. I received a call in the morning from a man who abused me, despite my telling him about my father's demise. But, I don't get troubled with this," says Dadral.
Rani Armaan, a 'Chamar' pop singer from Dhir's village, who has more than 15 albums under her belt, says initially she was harrowed by what people said, but later came to reason against it. "If someone shames me for singing about 'Chamars', I tell them that if we can't sing about Chamars then we shouldn't sing about Jatts either."
Future tense
Though Dadral and Tajpuri have performed in Canada twice, they continue to face discrimination at home. "My wife is the village sarpanch and we have an equal population of 'Chamars' and Jatts, still they don't invite us for social functions," says Dhir. "However, we do perform at Lala Wala Pir Mela, which is attended by Jatts." Chamar pop singers are also popular at the Shobha Yatra in Jalandhar that is taken out on the birth anniversary of Guru Ravidass. For most of them, the earnings are enough to "get by". "I really want to become a playback singer, someday," Ginni signs off.
amarjot@tribunemail.com