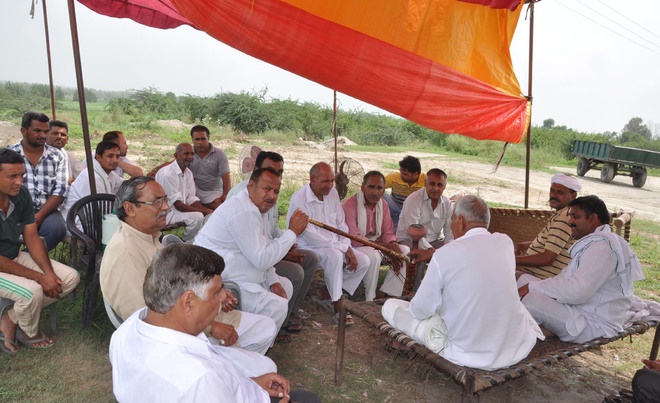 Parveen Arora
Tribune News Service
Karnal, August 21
Farmers of the district's Shekhpura Suhana village and members of the Bharatiya Kisan Union (BKU) have geared up to check the menace of illegal sand mining.
They stand guard at 52 acres of panchayat land that has deep pits as a result of rampant mining for four years. "It is tough to keep vigil given that the mining mafia carries arms and all we got are lathis to defend ourselves," a farmer said, adding the "mining mafia is in cahoots with the police".
There have been a few instances of confrontation with the mining mafia, and farmers were all by themselves. "The police did not help us," the farmer said.
Farmers said anyone caught indulging in mining would be penalised and sand-loaded vehicle would be empted in a village temple.
A group of farmers submitted a memorandum to Superintendent of Police (SP) Pankaj Nain two days back, urging the police to help them keep a check in the village, said Rattan Mann, state president, BKU.
"Farmers had started keeping vigil about 20 days back and succeeded in controlling illegal mining," he said.
Another farmer Salinder Sangwan said farmers had been assigned duties for day and night. "Farmers are participating in it with zeal as they want to save village land to being reduced to worthless."
He further said that with sand being dug out, two towers of 220-KV power line and a wall of a powerhouse were on the verge of collapse.
Balwan Singh, a farmer, said a woman from Shekhpura Suhana died last week when the heap of sand fell over her.