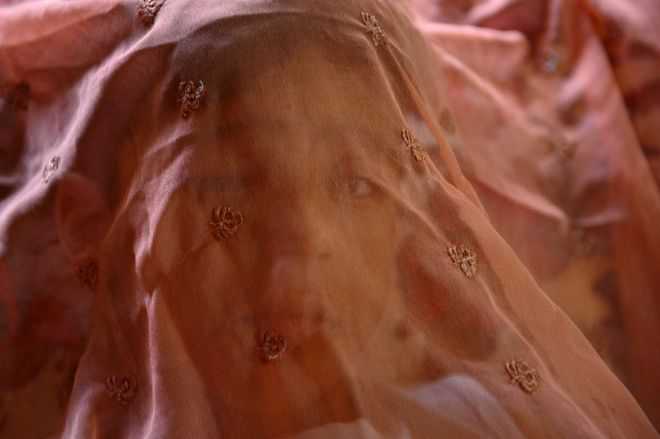 Majid Jahangir
Tribune News Service
Srinagar, August 26
When Union Home Minister Rajnath Singh addressed a press conference on Thursday with Chief Minister Mehbooba Mufti by his side, he said it was for a first time that a Home Minister had visited Kashmir twice in just a month to assess the situation.
This depicts the grim situation on the ground zero in Kashmir where the state and Central governments in an effort to calm the protesters and contain the situation, have resorted to massive security clampdown following the killing of militant commander Burhan Wani. Since then, almost 50 days have passed and the Kashmir lockdown continues. Nearly 70 people have died and over 8,000 have been injured during these days.
Rajnath made his first visit to Kashmir on July 23, the 14th day of the unrest, and his second visit came on August 25, the 47th day of the turmoil.
Before landing in Srinagar on Wednesday, Rajnath invoked former Prime Minister Atal Bihari Vajpayee's much-used three words — "Kashmiriyat, insaniyat and jamhooriyat." He invited those people for talks who believe in these three phrases. Apart from the mainstream political groups, a few odd unknown civil society groups, no one from dissenting groups — Hurriyat or protesting youth — met him.
While wrapping up his two-day visit which was further muddied by his joint press conference with Chief Minister Mehbooba Mufti where she lost her cool, Rajnath announced preparation for an all-party delegation and alternative to the controversial pellet guns, without further elaborating. In fact, doubts still persist regarding the mandate of such panel as Kashmir-based political parties insist that it won't work unless the recommendations of the all-party delegation are implemented without wasting time.
On the ground zero the situation remains same. Since last week, the government has even imposed night curfew across Srinagar and major towns of the Valley in a bid to scuttle the separatist protest programme. Mobile Internet services continue to remain suspended since July 9 while outgoing calling facility is barred on the prepaid mobile telephones.
In the absence of any political initiative to break the cycle of violence, the only option exercised by the governments has been to deploy more forces and use bullet and pellet guns coupled with curfew and restrictions in a hope to tire out the protesters who have emerged from every nook and corner of the Valley, including the remotest villages.
The only intervention, though late, came from Prime Minister Narendra Modi on August 22, who had till then maintained a silence on the happenings in Kashmir. It came when a delegation of Opposition parties, led by former Chief Minister Omar Abdullah, called on him. Modi said a dialogue was a must for bringing to the unrest to the end and ensuring a permanent solution in Kashmir within the ambit of the Constitution.
However, that message too seems to have been lost in the din of street protests and almost-daily sounds of firing of pellet guns. The streets of Kashmir continue to witness protests and clashes, which are more fearful and loud in south Kashmir.
As the lockdown continues, Mehbooba Mufti statements appear to be "out of sync" with the mood of the people and "reality" on the ground. Though she may have appeared to be having an iron hand, for many in Kashmir that is not the requirement at the present when the aim is to pacify the angry protesters.
---
Turn of events
July 8 Hizbul Mujahideen militant commander Burhan Wani killed in a gunfight in south Kashmir's Anantnag district along with his two associates. The killing sparks instant protests.
July 9: 12 protesters killed in action of security forces. The authorities suspend mobile Internet services in Kashmir valley while the facility is completely snapped in south Kashmir.
July 12: The Prime Minister reviews the Kashmir situation, appeals for calm
July 15: Printing presses of newspapers raided and printing stopped after which local newspapers fail to hit the stands
July 20: The Army Chief reviews security situation in Srinagar
July 21: Chief Minister Mehbooba Mufti chairs an all-party meeting in Srinagar, asks Delhi to start a political dialogue
July 26: Rajnath forms an expert team to explore alternatives to pellet gun
July 28: Mehbooba Mufti says nobody knew Burhan Wani was holed up at Kokernag in Anantnag
August 8: Three BSF men and a militant killed in Pakistan BAT team's action close to the LoC in Nowgam
August 12: The PM chairs all-party meeting on Kashmir, blames Pakistan for unrest
August 14: Pakistani flags hoisted at various places in Kashmir. Militants appear in Kulgam pro-Pak rally
August 15: A CRPF commandant and two militants killed in Srinagar gunfight. Five unidentified militants killed and a senior Army officer receives minor injuries when the Army foils an infiltration bid in the Uri sector of Baramulla district
August 16: Five civilians killed in clashes
August 17: Three security personnel killed in an ambush of an Army convoy in Baramulla district
August 18: Security forces beat college lecturer to death in Khrew, Pulwama. The Army orders probe order.
August 21: Opposition leaders, led by Omar Abdullah, meet the President
August 21: Union Minister Arun Jaitley during a rally in Jammu says there will be no compromise with those indulging in violence in Kashmir
August 22: The PM says a dialogue is a must for bringing an end to the unrest and talks about a lasting, permanent solution to Kashmir within the Constitution
August 22: Mehbooba says 95 per cent want peace
August 22: For the first time after 12 years, the BSF deployed in Srinagar for law and order situation
August 25: Rajnath Singh concludes two-day visit to Srinagar. Says pellet guns to go