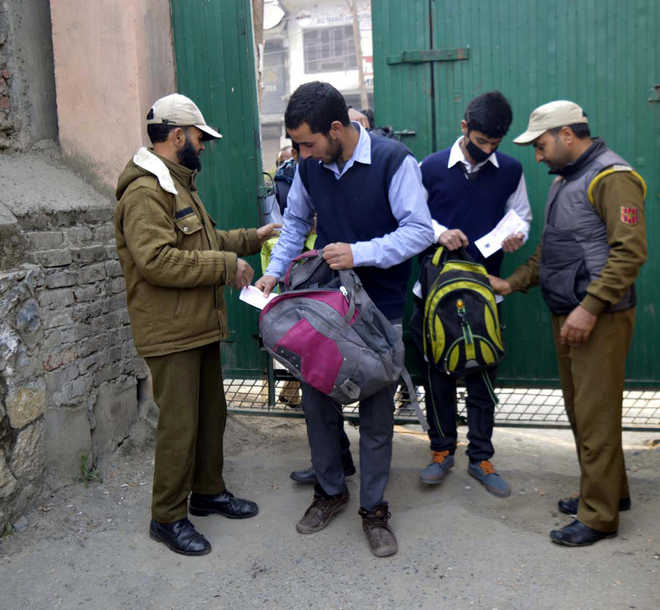 Srinagar, November 14
Over one lakh students are scheduled to take secondary school exams beginning on Monday following adequate security arrangements in the Valley, education officials said.
(Follow The Tribune on Facebook; and Twitter @thetribunechd)

The government has made intense security arrangements around the exam centres, however, in Rajpura Pulwama and south Kashmir's Shopian stone pelting on security forces was reported.
"One lakh five hundred students are taking these exams," Zahoor Ahmad Chatt, chairman of Jammu and Kashmir Board of School Education said.
"Over 45,000 students are appearing for Class 12th exams beginning at 11 am at 484 centres today while over 55,000 students are appearing for Class 10th exams which are beginning here tomorrow (Tuesday)," the chairman added.
Since all educational institutions including schools have remained closed since July 9, the board has decided to allow a 50 per cent cut in the syllabus for those students willing to take the secondary exams.
The annual examinations for Class X and XII are being conducted after much debate over the issue as schools were closed for the past four months and the syllabi could not be completed.
The examinations for three papers, Chemistry, Economic and Entrepreneurship are being conducted today.
In exam centres across Srinagar, the exams began peacefully without any untoward incident.

The worried parents were waiting for their children outside. It was for the first time since July that students came out of their homes as the schools have been lying shut due to the ongoing unrest.
Dozens of schools have been burnt by miscreants during the last two months.
State Education Minister Naeem Akhtar has attracted a lot of criticism from the separatist leaders and also a threat from the Lashkar-e-Taiba (LeT) for trying to re-open the schools. — TNS/IANS
Top News
Addressing a press conference ahead of Navy Day, he says the...
Said it was a break from the colonial and pre-colonial legac...
The move will allow more than 200,000 workers who have famil...
BSF jawans hear buzzing sound of a Pakistani drone at midnig...
Case registered on CPI(M) West Bengal secretary Md Salim's c...