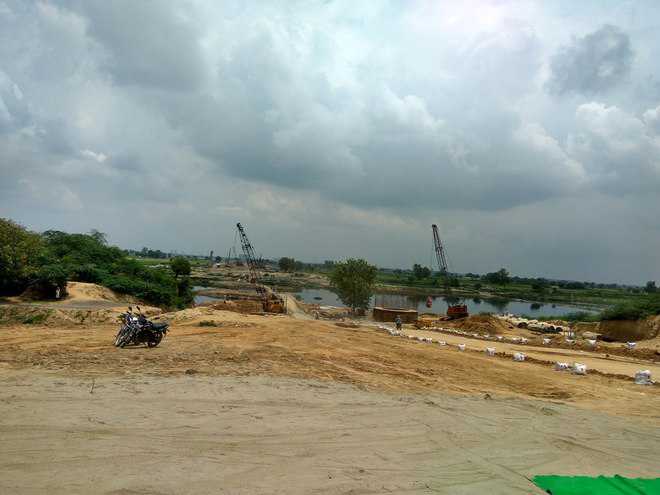 Bijendra Ahlawat
Tribune News Service
Faridabad, July 13
The National Highway Authority of India (NHAI) has said it would complete the 135-km-long Eastern Peripheral Expressway by August 2017. If so, the authority will complete the construction 11 months ahead of the July 2018 deadline.
Also known as the KGP (Kundli-Ghaziabad-Palwal), the expressway will connect Palwal with Sonepat via Ghaziabad and it will provide a bypass on the eastern side of Delhi.
NHAI Chairman Raghav Chandra, who visited the site of the expressway in Faridabad's Fajjupur Khadar village today, told a gathering of local residents and officials that the speed of work had been stepped up, and all companies and associates involved in the construction had been asked to complete the construction by August next year.
"The Supreme Court has already directed the authorities concerned not to delay the project beyond July 2018. The NHAI will try to make the expressway operational ahead of the deadline in view of the instructions from the Prime Minister's Office," he said.
Chandra, who conducted an aerial survey of the project in Faridabad and Palwal districts, claimed that all disputes pertaining to the constriction had been settled, as he had been told around 70 per cent of the compensation for land acquired for the project had been paid to farmers.
Earlier, farmers of Palwal district had opposed the construction on the grounds of low compensation.
Today, a delegation of Fajjupur Khadar villagers led by the sarpanch submitted a memorandum to Chandra, demanding a passage to fields located on both sides of the expressway and near a bridge proposed over the Yamuna river. The NHAI Chairman assured them of solving their problem.
Prime Minister Narendra Modi had, in November last year, laid the foundation stone of the Rs 5,763-crore Eastern Peripheral Expressway. The Centre had fixed a deadline of 400 days.
This is one of the two expressways proposed by the Centre to decongest the national capital by providing a bypass to vehicles not destined for Delhi. With the stretch between Palwal and Manesar opened already, the work on the Western Peripheral Expressway also known as Kundli-Manesar-Palwal (KMP) route is already under construction.
Top News
Kumar is meeting his MLAs to decide whether the alliance wit...
The strength of the Maharashtra ministry has now gone up to ...
The Bambiha gang in an FB post earlier had claimed that poli...
Tyagi, who is accused of assaulting a woman on August 5, had...