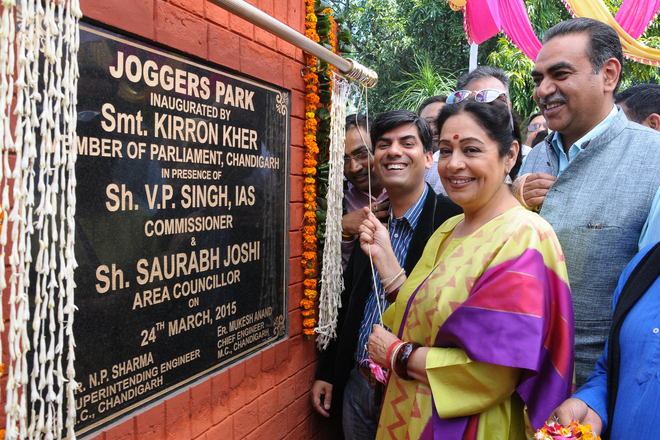 Tribune News Service
Chandigarh, March 24
City MP Kirron Kher once again supported single window system for the city. Kher was speaking during the inauguration of the Joggers Park in Sector 15 today. She said at present there is no single window system in UT Administration and MC and residents face inconvenience. She said she will try to introduce single window system in UT and MC soon.
While expressing her views on the park she said, "I wish I also get some time off and come here for a walk. Our city is already an example of perfection for the whole country."
Area councillor Saurabh Joshi said the total area of the park is 3 acres and the track is a special 19 inches layered one, which is a special cinder track. This cinder track is a type of race track generally used by athletes. City BJP unit president Sanjay Tandon along with majority of BJP councillors was present during the function.
On a lighter note, Kher said she would also like to come to the park but people should not give slips for work.
Top News
Attacker identified as ex-policeman dismissed last year, had...
Farmworker calls police to report the bodies of four of the ...
Jasdeep and Amandeep Singh came out with their hands zip-tie...
Jaishankar also talked about India's aspiration to become a ...
WHO has warned that Maiden cough syrup could be linked to th...