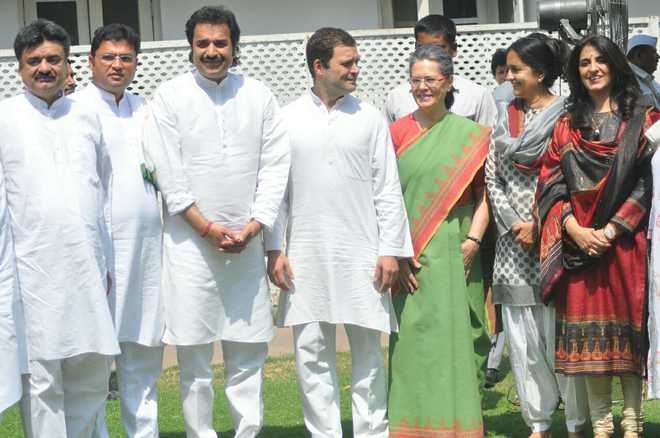 Aditi Tandon
Tribune News Service
New Delhi, April 28
Former Chief Minister of Haryana and party stalwart Bhupinder Singh Hooda skipped an event held to formally merge the Kuldeep Bishnoi-led Haryana Janhit Congress with the Indian National Congress in the national capital on Thursday.
The merger — a closely watched event so far as attendance of senior Congress leadership of Haryana went — was held at Congress president Sonia Gandhi's residence.
Hooda was present at a press conference on the HJC-Congress merger in the evening. He, however, left the press conference midway.
The HJC was represented by its president Kuldeep Bishnoi and his wife Renuka while the Congress was represented by Haryana unit chief Ashok Tanwar, CLP leader Kiran Choudhry, Kumari Selja and Randeep Surjewala.
Bhupinder Singh Hooda did not attend the event despite an invitation from Congress general secretary Shakeel Ahmad, the leader in charge of party's affairs in Haryana, who was also present at the merger.
"We welcomed Kuldeep Bishnoi and his party back into the Congress fold and will work to strengthen the Congress together, " Ahmad said, downplaying Hooda's absence.
Haryana's political circles are however abuzz with speculation over how the strong Hooda camp will react to the Congress party's move of raising Bishnoi as a parallel non-Jat force in the state. A senior leader said "only time will tell", considering senior state leaders knew nothing of a merger that Congress vice-president Rahul Gandhi handled himself.