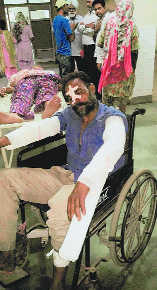 Sushil Goyal
Tribune News Service
Sangrur, May 24
A clash took place at Balad Kalan village (near Bhawanigarh) between police and Dalits who were opposing the auction of panchayat land (reserved for SCs) of Balad Kalan village.
Terming the auction as eyewash, they were seeking the land on lease in the auction at low rates for joint farming.
As many as 15 persons, including four-five policemen, sustained injuries in the incident. The police resorted to a lathi-charge on the protesters when they blocked the Sangrur-Patiala road at Balad Kalan village. The Dalits allegedly pelted bricks and stones at the police.
District president of Zamin Prapati Sanghrash Committee (ZPSC) Mukesh Malaud claimed that the police opened fire when Dalits opposed the cane charge. The police refuted the charge of opening fire on the agitators.
On the other hand, Buta Singh, sarpanch of Balad Kalan village, said that he had also come to know that the police opened fire but it could not be ascertained.
Parveen Markan, a doctor at Bhawanigarh government hospital, said seven injured persons have been admitted to the hospital and two inured had been referred to Government Rajindra Hospital, Patiala, with suspected fractures.
However, no one with gunshot injury had arrived at the hospital, he added.
The auction of 531 bighas of panchayat land was today held at the BDPO office at Bhawanigarh. The Dalits, led by members of ZPSC, opposed the auction while two other Dalits from the village got about 105 bighas at a rate of over Rs 23,000 per acre reportedly on behalf of about 30 Dalit families in the auction on lease.
Malaud said that when the protesting Dalits opposed the auction they were turned out of the BDPO's office. On this, they raised slogans there for three hours. After that they reached bus stand of Balad Kalan village and staged dharna there.
However, a person on a motorcycle rammed into the protesters, due to which an altercation took place. On this the police resorted to lathi-charge and the Dalits pelted stones in retaliation. The police also fired some rounds in the air and held five persons, including Jarnail Singh, a panch, in their custody, he added.
SP (D) Jaskiranjit Singh Teja said that four-five police personnel had sustained injuries. On the complaint of Bhola Singh and others, a case had been registered against the protesters under Sections 342, 341, 506, 148 and 149 of the IPC.
Teja said the agitators also injured a person when they blocked the road at Balad Kalan village. The police reached there and gave him first aid. However, not a single shot was fired by them, he added.
Top News
'In Punjab, Rs 11 is considered a 'shagun', so I am announci...
Polling draws to a close | Counting of votes on Dec 3
On Thursday, Supreme Court nullified the reappointment of Ra...
The PM is in Dubai to attending World Climate Action Summit