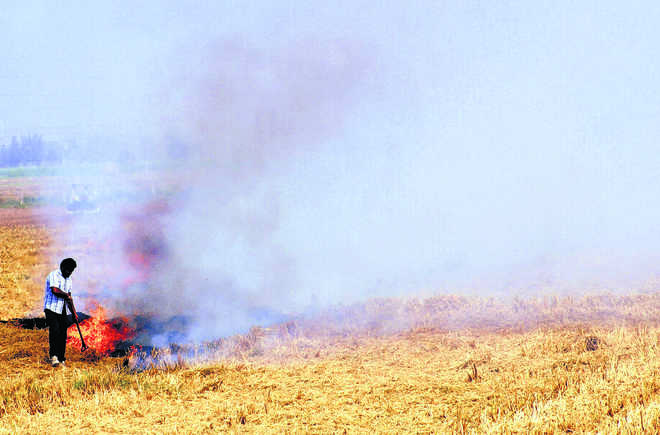 INDIA, the second largest agro-based economy in the world with round-the-year crop cultivation, generates a large amount of crop residue, which is burnt in the absence of adequate sustainable management practices. As per the Global Burden of Disease Study-2017, about 12.5 per cent of the total deaths in India were caused by air pollution. Of these, 51.4 per cent persons were less than 70 years of age. Around 76.8 per cent Indians breathe air that is worse than the levels recommended by the National Ambient Air Quality Standard. Apart from contributing to global warming, crop residue burning (CRB) has become a major environmental problem causing health issues.
The main adverse effects of CRB include the emission of greenhouse gases that contribute to global warming, increased levels of particulate matter and smog in winter that reduces visibility and causes health hazards, loss of biodiversity of agricultural land and the deterioration of soil fertility. CRB significantly increases the quantity of air pollutants such as carbon monoxide, carbon dioxide and sulphur dioxide, which results in the aggravation of eye, skin and respiratory diseases. According to an Indian Agricultural Research Institute study (2008-09), Punjab, Haryana and Uttar Pradesh accounted for about 53 per cent of the country's total crop residue burnt. The intensification of agriculture and the economics of burning are major contributors to the spread of the CRB menace to central, eastern and southern parts of the country, as captured in the satellite images after the harvest of crops.
Why residue is burnt
The burning of one tonne of paddy straw results in the loss of nutrients — about 5.5- kg nitrogen, 2.3-kg phosphorus (P2O5), 25-kg potash (K2O), 1.2 kg sulphur, 50-70 per cent of micro-nutrients present in the straw and 400 kg of carbon. Valuing these nutrients at the current market prices means a loss of about Rs 1,500 per hectare due to four major nutrients alone. Farmers continue to burn paddy residue due to its zero cost as well as the narrow window of time available to prepare the fields for sowing of wheat after paddy (which is being further shortened due to delay in transplanting of paddy). Further, the farmers also have the mindset to plant the crop in a well-prepared seed bed on account of the belief that "better the tilth, better the crop". Further, they normally own the machinery required for tillage and sowing in clean fields, whereas they have to invest to purchase new machinery for Crop Residue Management (CRM), which is costly. Since these machines are used only for 15-20 days in a year, the farmers do not consider these worth investing. Wheat straw is collected and used as fodder and the left-over volume in the field is very small, yet the farmers resort to burning.
The farming sector is facing a severe economic distress and farmers prefer to continue with paddy due to almost negligible marketing risk; the increasing area under this crop is increasing the volume of residue. The poor economic and commercial value of crop residue, coupled with high cost of collection and storage, reduces its value for farmers. The commercial supply chain and an ecosystem for alternative use are almost non-existent at present. The enforcement of a ban on burning is also a challenge due to the extent of its incidence. In Punjab, the number of fire incidents captured has been 81,093, 45,410 and 50,590 after rice harvesting (October-November) and 14,857, 11,510 and 11,698 after wheat harvest (April-May) in 2017, 2018 and 2019, respectively, though these events are not a true quantification of the 'volume and acreage' burnt.
The options
Many solutions have been proposed from time to time to utilise the huge quantity of crop residue generated every year. The collection of straw for ex situ use in biomass-based energy generation facilities, co-burning in some coal-fired energy units, production of briquettes and pellets for domestic energy use and ethanol production is being done, but for large-scale use, collection, transportation to central facilities and storage of millions of tonnes of residue must occur in only 20-25 days. To store rice straw of one million hectares requires about 2,500 hectares. Further, the removal of residue from the field is not a good proposition because it entails the removal of huge amounts of essential plant nutrients and soil organic matter.
Only on-farm i.e. in situ management of residue largely has the potential to address all three criteria of sustainability, profit and practicality. As the incorporation of residue into the soil requires two to three extra tillage operations along with extra irrigation, in addition to the use of chopper to reduce their size to hasten its decomposition, the retention of residue as mulch is the best option. The combine harvester fitted with super straw management system (Super-SMS) chops and spreads loose rice residue as mulch and wheat can be planted into mulched fields using an innovative agricultural technology called the Happy Seeder. In situ management of crop residue through conservation agriculture (CA) is a viable, practical and scalable solution and needs to be propagated.
The new initiative
Smog in 2016 and 2017 brought this menace into serious focus and attempts were made to find an appropriate solution. As remarked by Milton Friedman, "Change only happens in a crisis and then the actions that are undertaken depend upon the ideas that are just lying around." The Union Government launched a scheme with an allocation of Rs 1,150 crore for in situ CRM through the promotion of agricultural mechanisation and thereby retention of residue as mulch or its incorporation into the soil through the use of appropriate machinery. Financial assistance is being provided to purchase the machinery for own use or establish farm machinery banks for custom hiring. The government also made it mandatory for all combine harvesters to be equipped with the SMS. The scheme was aggressively implemented during 2018-19 and 28,616 machines have been provided to the individual farmers, cooperative societies and entrepreneurs for setting up custom hiring centres (CHCs). To provide access to a large number of farmers, emphasis was laid on involving primary agricultural cooperative societies to purchase the machines for use by their members and also on the organisation of farmers into groups for joint ownership of machinery. As many as 3,119 cooperative societies and 1,147 farmer groups were provided with machinery for CRM. In addition, a campaign was launched to create awareness through print and electronic media as well as village-level training camps, demonstrations, field days and exposure visits for farmers. The programme resulted in the reduction of quantity of straw burnt, which was monitored in terms of active fire incidents, but these are not a true indicator of the area under fire and the quantity burnt.
The delay in starting the programme and consequently the delay in the supply of requisite machinery, lack of capacity-building of the machine operators and shortage of trained staff to provide requisite extension services and their will to work together with the private sector suppliers, contributed to less than optimal utilisation of machinery. Demand-driven mechanisation is viable and profitable only when based on a sound business model and risk management strategies.
The way forward
Though significant progress has been made in advancing conservation agriculture-based technologies (CA-Happy Seeder) during the past year, based on the feedback from stakeholders, there were some gaps in implementation. The programme has been designed and implemented in a top-down approach, whereas such an approach has not always been successful in the past. Keeping in view the social, economic and cultural aspects at the local level, the technology needs to be adapted to farmers' requirements for the delivery of right equipment in the right environment. Accordingly, it is suggested that:
(i) Building technical capacity of stakeholders is a pre-requisite for propagation of new technologies, so a major emphasis needs to be laid on their training for proper operation and maintenance of the equipment and its profitable use.
(ii) The service from a well-equipped and well-trained service provider is necessary to improve access of small holders to relevant machinery. So, the selected entrepreneurs should be nurtured and trained in business skills — market appraisal, costing and fixing of rate, cash flow control, partial budgeting and record-keeping — as well as technical skills such as operation, calibration of equipment, maintenance and servicing.
(iii) The private sector should also be encouraged to participate through demonstrations, technical support, machinery fairs and formation and consolidation of farmers' mutual support groups along with the public sector.
(iv) For the cooperative societies, providing CRM machinery on rent must be viable as a business. Demand aspects need to be addressed by ensuring that farmers have access to information about availability and suitability of machinery in order to make informed choices. The secretary of the society should be accountable to ensure the optimal use of machines.
(v) The present programme does not incentivise the farmers to cover the additional cost of hiring of machinery. Initially, an incentive of Rs 2,500 per hectare, limited to two hectares, may be provided to enable the small holders to cover the increase in the rentals of SMS-equipped harvester combines and the seeding machinery to improve adoption on a large scale.
(vi) Efforts for propagation and adoption of climate-smart and environment-friendly machinery should be an ongoing programme instead of limiting it to two years. For coverage of two-thirds of the area under paddy-wheat rotation under in situ CRM, about 40,000 zero-till drills/Happy Seeders are required.
(vii) The seeding of wheat in standing rice stubble provides an additional window of about two weeks for advancing the sowing of the wheat crop. As a medium-term strategy, the selection and breeding of wheat varieties suitable for conservation agriculture so as to utilise this window to increase the duration and saving from terminal heat for improving productivity may be taken up. It will offset a major cost in ownership and use of CA machinery.
(viii) There were some sporadic incidents of attack of 'army worm' on the wheat crop at some locations during the past season. Accordingly, research for fine-tuning agronomic practices for conservation agriculture — pest control, weed control, timing of first irrigation and fertiliser application — may also be taken up.
(ix) In the long term, there is a need to develop a range of alternatives. Reduction in area under rice-wheat cropping system is a must to reduce the straw load. Though wheat is an ecologically benign crop, diversification from paddy should be the top priority. For this, a package of incentives and disincentives has to be put in place for discouraging rice cultivation and encouraging other crops' cultivation. Agricultural research on alternatives to paddy requires continuous investment in terms of time and resources to make these economically competitive.
(x) The Punjab State Farmers'and Farm Workers' Commission set up a Paddy Straw Challenge Fund with an award money of $1 million for developing innovative technologies for solving the problem of paddy straw-burning. The Union Government should make a matching contribution towards the award money to attract international research organisations to participate.
To enable the country to feed itself sustainably in the scenario of rising population, growing rural-to-urban migration, degradation of natural resources and increasing negative impact of climate change, emphasis will have to be put more firmly on conservation agriculture production systems. For this purpose, farmers need to be guided, motivated and incentivised for embracing the paradigm shift to this new way of farming. As CS Lewis put it, "You can't go back and change the beginning, but you can start where you are and change the ending." We have to make a new beginning before it is too late.
The author is Member-Secretary, Punjab State Farmers' & Farm Workers' Commission. Views are personal.
Please send your feedback to [email protected]
Top News
Former CM Charanjit Channi denies allegations
Governor Banwarilal Purohit administers the oath of office a...
Was speaking at the 'Mohabbat Ki Dukaan' event organised by ...
An unperturbed Gandhi smiled in response to sloganeering and...
An Army personnel and one of the terrorists are injured in t...