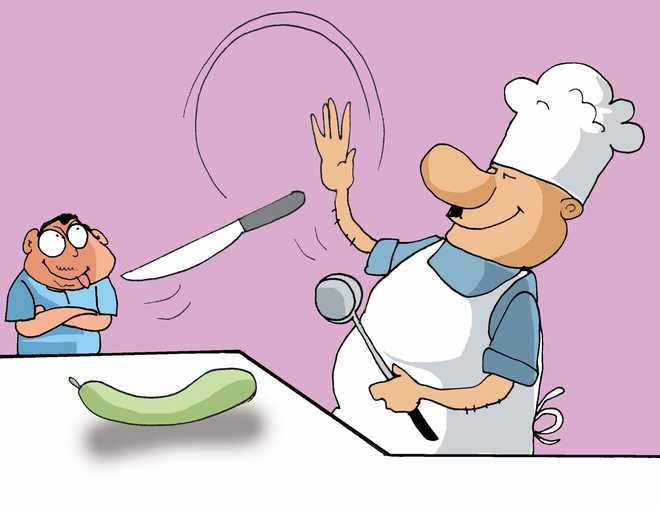 Aradhika Sharma
Every day brings a lesson on what we as individuals can do (apart from using a cloth thaila for shopping) to preserve the environment. Becoming a green shopper is one of them and is not just great for the earth but also for the wallet.
Lesson 1: At the café
"Do you need a receipt?" the girl waiting on us politely enquired after scanning my credit card for the money I owed. I looked up in surprise and said: "Why, no, actually I don't!"
"Thanks. We're trying to be a zero-waste facility, you see," she explained. "We're trying to save paper by encouraging our customers to think whether they really need a receipt for their meal."
"Good initiative!" I responded "We unthinkingly accept the mile-long paper receipt and casually trash it in the nearest bin. Thank you for making me aware that, in the process, I've been leaving an infinite trail of carbon footprint behind!"
She smiled and moved to the next table.
Lesson 2: A chef proclaims
"I prefer to cook with local produce," said a visiting chef pointing at a lauki at his demonstration event in a 5-star hotel. "It's fresher, tastier and much healthier for your family and the environment." Chopping up the lauki, he continued: "When you buy food, ask yourself the question: How far has your food travelled? How many food miles have you consumed for the asparagus salad on your plate? The further food travels, the greater the impact on the environment caused by the pollution from carbon dioxide emissions from the transport vehicles."
I did a quick check list of the food I'd eaten this week. All local — no Vietnamese Basa fish, asparagus or specialty cheeses — and felt virtuous that my food hadn't travelled more than a few kilometers to get to my plate. I resolved that to invest in the farm-to-table principle and keep my food mileage down, I'd purchase products from local farmers at the farmers' mandi.
Realms of plastic
Officer Girl 1: "Online shopping is such a great way to reduce car trips and carbon emissions."
Officer Girl 2: "Yes, but what of the enormous amounts of plastic packaging the vendors use? Packets within packets within cardboard boxes, sometimes filled with thermocol, tightly wrapped up in meters of tape. That's a serious waste and burden on the earth, isn't it? Imagine if your body were the earth and you had to digest all that cardboard and plastic…"
Shamefaced, Girl 1 slunk into the office lift, hiding behind her back, the large box containing a solitary lipstick that she had ordered from an e-tailer.
Do you need it?
Amu's sister exultantly displayed the clothes she'd chosen in the shop:
Amu: I thought you wanted just one red kurti."
Sister: I'm getting three kurtis for the price of two! What a great deal!
Amu: These will end up bunched up in some corner of your closet, eventually ending up in landfills that damage our environment. Be a smart shopper, not a sucker for deals.
Sister: Hmm… OK… Any ideas where the red kurtis are placed?
Top Stories