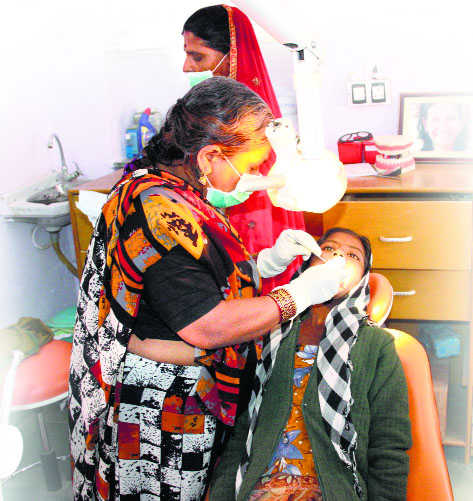 A well-knit cluster of dome-shaped structures would be a surprise in any village. In rural Rajasthan, it is a wonder. Barefoot College at Tilonia village, 100 km from Jaipur, is a wonder. Solar power lights up the entire 60,000 square feet campus. A complex network of rainwater harvesting holds the pride of place, how it was conceived and executed by a group of illiterate local architects is what's more fascinating.
The underground tank connected to the rooftops collects 400,000 litres of rainwater, enough to sustain four years of drought in Tilonia. The construction was carried out in 1986 by men and women like the illiterate architects, who made seepage-proof roofs, using locally available organic material. There has been no leakage to date.
This environmentally-friendly structure of the Social Work and Research Centre (SWRC) — less preferred to its now-famous Barefoot College tag — had received the Agha Khan Award for Architecture in 2001. However, doubts expressed by a professional architect to the selection committee on the credibility of skills of the illiterate made Barefoot College return the award, worth $50,000.
What the college counts as its reward is the ability to provide dignity to the skills and knowledge systems of the rural poor — left outside the mainstream education system, which centres around the urban settlers and their needs.
Inside Barefoot College's large airy rooms, which are not as hot as one would fear, about a dozen teachers share their special knowledge in subjects ranging from the basics of solar engineering, dentistry, mechanics and midwifery to DJing. In most classrooms, the pupils sit on the floor. All of them come from a background of poverty; some women are as old as grandmothers, a few are from Africa.
No degrees are given, what has to be earned is the community's acceptance of their work enriching lives. All learning is done by doing. Teachers and pupils try out crazy, innovative ideas and there is no age bar for admission. At times, the pupils and teachers do not share a common language and use only sign language.
This unique college has been transforming the lives of the rural poor over the last four decades by making them self-reliant by improving skills in managing their needs of water, power, health, education and to some degree, employment.
A new beginning
"Why is it that a school or hospital is called sarkari, whereas a dharamshala is owned by people? This mindset has created a lack of trust in government-run schemes among the masses," says Ramkaran, who has been associated with SWRC since its inception. The centre began as an endeavour to help the rural people steer their own path out of poverty by combining humanitarianism and entrepreneurship.
Founder Bunkar (Sunjit) Roy — educated at Delhi's St Stephen's College — insists on being called one of the founders along with the "Friends of Tilonia". He recalls how a visit "out of curiosity" to Bihar during the famine in the mid-1960s changed his life. He became resolute to work for the rural poor after seeing the indescribable human suffering. His mother did not talk to him for two years when she learnt of his decision.
In 1972, Roy started blasting wells in Ajmer district. It continued for five years and the Rajasthan government agreed to hand over 45 acres of semi-arid land to his centre. Its first job — a groundwater survey of 110 drought-prone villages of Silora block for the Rural Electrification Corporation — resulted in the electrification of the entire block a decade later. The hours spent interacting with peasants, who would not migrate even during a drought year, sensitised Roy about their aspirations and the inherent paradoxes of the so-called rural development schemes. At Barefoot, it was decided, the investment had to be more in people than in projects.
Rural is not sectoral
Roy and his team realised that because the parameters of education are defined by the urban educated, the extraordinary skills of the rural people never get identified and applied in mainstream education. At Barefoot, the recognition of their skills and confidence shown in their potential scribbled a unique success story.
It meant that no faculty would be recruited through advertisements, nor will they have a fixed qualification. Therefore, no paper contract would be drafted, everything has to work on trust. Through the communication channels of rural life, it took little time for the word to spread, and by trial and error, the college has never had a dearth of teachers who introduce new concepts in professionalism. Thus, the water diviner, a bone setter, a midwife, a mason — universally acknowledged for their skills — with a few technical inputs take their skills to a new level.
This has spelt staggering achievements for the college. Its barefoot engineers have provided solar-powered lighting to 136 virtually inaccessible Himalayan villages, over 15,000 children have been educated at Barefoot College night schools so far and 13 villages and 15,000 people now benefit from community piped water supply systems — designed, planned and implemented by the locals. The barefoot approach has caught on; there are now 24 such colleges in 13 states.
The college has a few non-negotiable values though, insists Ramkaran. Caste, gender, religious identity and disputes on any kind of boundaries are not recognised; simplicity is the keyword. Everyone has to follow the Gandhian way of living, therefore no one earns more than the minimum wages.
Power to women
The college prefers training mature women in technology rather than young restless men, "who would leave looking for greener pastures", says a senior coordinator. The focus is to help the rural people find sustainable solutions in self-reliance. Magan Kanwar, one of the teachers in solar engineering, was told by her father-in-law that she should rather focus on knitting when she proposed to join the college. Almost every woman — pupil or teacher — has a story to tell. Several have heavy-drinking and abusive husbands. Kanwar says all of them are used to hard labour, and the skills learnt at the college provide them some independence and sustenance.
"I wanted to do something more than cooking and producing babies, this college gave me a chance to find a purpose in life," says another trainer. Kanwar is mentoring 47-year-old Masamba Hameez Makami from Tanzania, who would soon return home to install solar-powered lanterns in her village, which has no electricity. Makami is on a six-month scholarship provided by the Indian government to get trained in a solar engineering programme.
To overcome the language barrier, Kanwar uses sign language and colour-coded circuits to explain the solar process to Makami, who speaks Swahili. The women solder electric wires to a circuit board.
Solar energy powers the requirements of the entire Barefoot College campus. Solar photovoltaics have been installed on the campus by rural youth and women, none of whom has studied beyond Class X. No solar or electronics engineers were invited to help them. And it is mostly women who have soldered the most sophisticated solar cookers. The maintenance is also their responsibility.
Tilonia has trained 65 barefoot solar engineers from eight states to install 960 solar units. The easily-doable technology, as practised at Barefoot, has caught the fancy of countries that face similar problems in meeting their demand for power. In 2014, Barefoot launched six regional training centres in Africa to train 560 illiterate rural women on how to solar electrify their villages within six months of their training. This rural development model will benefit Burkina Faso, Liberia, Senegal, South Sudan, Tanzania, and Zanzibar.
Demystifying technology
In the field of drinking water too, the Barefoot College has no paper-qualified engineers. Sophisticated India Mark II hand pumps are being repaired by cycle repairers, ordinary farmers, blacksmiths, weavers and housewives. Called Hand Pump Mechanics (HPMs), each trained person looks after 30 hand pumps within a radius of 5 km from the village. The HPMs carry out all major and minor repairs above and below the ground. They carry their tools on cycles and are paid nominally. When repaired by the government machinery, the cost came to over Rs 3,500 per pump per year. As a result of this community-based HPM management system, policies have been changed to decentralise the operations and maintenance in several states of India. But it is mostly the degree holder engineers who are opposing the HPMs. They find it hard to accept the process of demystification that has made maintenance of hand pumps absurdly simple and low-cost.
Boys coming out of night schools have been trained in conducting tests for contaminated drinking water; they carry out geophysical tests with terrameters and read the results before drilling for water and installation of hand pumps. These night school graduates are also trained to run village primary schools and be multipurpose health workers, in the absence of adequate staff. The barefoot have become harbingers of real change, at times challenging the relevance of paper degrees.
'PM' every three years at night schools
Over 150 night schools are run by Barefoot teachers for over 4,000 children. These children work during the day, either looking after younger siblings or grazing the cattle. Poverty is no deterrent to expose these children to the concept of democracy. Every three years, children aged between 6 and 14 years elect a Prime Minister. The PM with a Cabinet of Ministers makes sure that the night schools work properly. So far, all Prime Ministers have been girls, simply because they outnumber boys in night schools. The present Prime Minister grazes 20 goats in the morning, but fits perfectly in her role by the evening.
Catalyst of social change
The Barefoot College has installed over 700 hand pumps in poorer localities of villages; residents make token contributions for the cost incurred.
An instance is cited to show how caste considerations are given no weightage. The upper castes wanted hand pumps in a particular area. It was refused. The sites were finally chosen by the Scheduled Castes, despite the fact that the upper castes were strongly represented and went to the government.
In majority of cases, the hand pump mechanics are also from the lower castes, so either the hand pump mechanics repair the pumps or the upper castes do not get water through them. Many women hand pump mechanics have been trained and are paid by the government and the community.
The teachers for evening schools were also not accepted by the high-caste dominated village councils because their candidates were not selected. This was not allowed to impact the process; the councils had to either accept the teachers or not have the schools. A network of close to 100 traditional midwives is the eyes and ears of the preventive health programme. They have conducted over 2,000 deliveries and have been recording the death and birth data in 150 villages.
Through the eyes of the rural people
Some men and women in and around Tilonia were given simple cameras to document their life. The results, despite their lack of training in photographic language, made a Magnum photographer observe, "If these were taken by illiterate photographers, I should leave my cameras aside and should never touch them again."