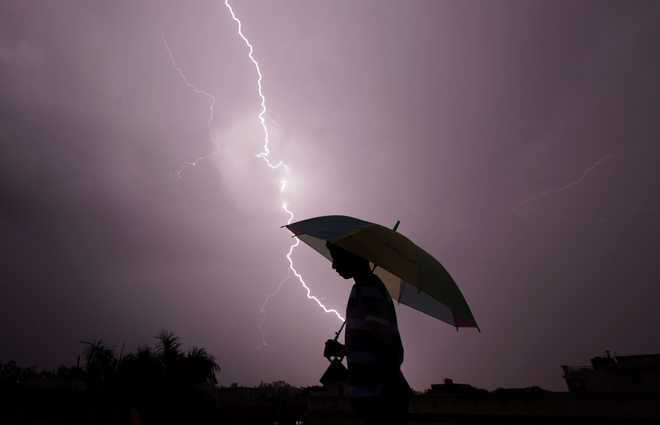 Tribune News Service
Dehradun, May 27
Three persons were killed and seven others injured as lightning struck Chaisheel Bugyal area of the Uttarkashi district on late Friday night.
Uttarakashi District Magistrate Ashish Srivastava said relief works were being done on a war footing despite the place falling in an inaccessible area. The three dead had been identifed as Mor Singh (48), Ratan Singh (49), and Amar Singh (49). While Mor was from Mauda Aarakot, the two others hailed from adjoining Balawat Aarakot area. The seven injured were Jagdish, Jitendera, Chaman, Dinesh, Janak, Sanjay and Akhilesh. "None of the seven is in a critical condition and are completely out of danger. A team of doctors which rushed to the area has examined them and declared their condition as stable," DM Srivastava told.
According to district authorities, all the dead and injured were locals of the area, who have taken their goats to graze in the meadows. The victims had made a temporary settlement in two tents, where they intended to spend the night. The lightning struck when they were relaxing in the tents.
The bodies were lifted through a helicopter and brought to Purola in Uttarkashi. Known for its pristine beauty and vast green pasture, Chaisheel Bugyal has recently been declared as 'trek of the year' by the state government.
Uttarkashi's Friday night lightning incident comes after Thursday's cloudburst in Almora district of Kumaon. Fortunately no human life was lost in the incident though large scale properties were destroyed. The incident had taken place in the Dhung Mandar village and a large part of agriculture land was swept away. Apart from houses, many cattle were also killed in the incident.
Meanwhile, Dehradun Met office has issued an alert of heavy rains for the next 72 hours starting May 29 onwards in Chamoli, Rudraprayag, Uttarkashi, Pithoragarh and Nainital districts. Further, Dehradun district experienced heavy showers on late Thursday evening bringing down temperatures. A large number of trees were also uprooted in the Chakrata area of the district. Heavy rains also led to power failures at various parts of the district.
Top News
Earlier, Amritpal was caught in CCTV footage at a toll plaza...
Police have arrested 154 people so far but Amritpal is still...
Stringent National Security Act has been invoked against Amr...
In his first reaction to the police action, the CM releases ...
Mobile internet services in the remaining areas of the state...