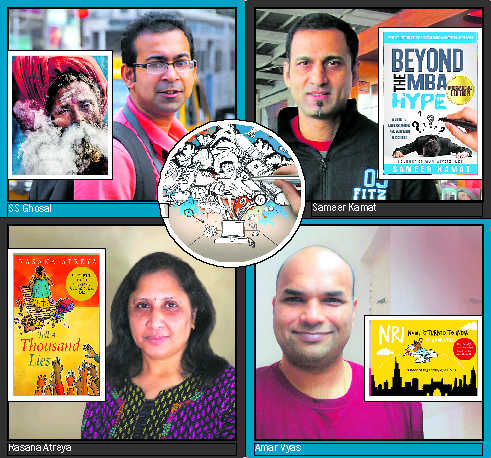 Aditi Garg
As we get used to conducting our lives online on social media platforms and utility apps, a subtle but sure revolution is underway that has opened up people to their target audience like never before. While traditional publishing platforms promise exposure and success to the chosen few, many are opting for digital publishing.
The beauty of internet is that not only can you connect to anyone, you can get instant reaction too. While it does mean that there will be people who will troll you, hate you and bog you down; there will be praise too where it is due. Justin Bieber's success can be partly attributed to the right people discovering videos of him singing on YouTube as a pre-teen. Canadian comedian, Lily Singh, too rose to popularity through her video blog.
Self-publishing, and now e-publishing, is often looked upon as vanity publishing. Many online success stories, however, are proving the opposite. It pays to follow your dreams digitally. "In what is a big deviation from routine, a lot of published authors based in the US and the UK are asking publishers to give rights to their books back. If the book(s) were unsuccessful, the publisher often gives these back.
The authors then fix the problem areas by paying for better editing, commission a better cover, change the title and self-publish the books. "Some of these authors have been spectacularly successful, regularly hitting the top spots in Amazon's ranks," says Rasana Atreya, a self-published author whose book Tell a Thousand Lies was chosen as one of the 'five favourite tales from India' by UK's Glam magazine. Also India's ambassador for the UK-based Alliance of Independent Authors, she warns those looking to self-publish against many claiming to be publishers, charging you thousands of rupees for what can be done for free.
According to Rasana, self-publishing gets a bad reputation because many writers are so eager to be published that they often bypass many steps needed to be sure that their work is well presented. They do not get their work critiqued or professionally edited and usually make their own covers for the ebooks, thereby devaluing their work.
Getting a book published the traditional way can be a daunting task as there are many authors who line up for a bit of interest from the publishers. Sameer Kamat, an author published by Harper Collins, put in five years of patient pursuing to see his book in print. For the international edition, he was, however, unwilling to wait that long and decided to self-publish it. He says, "I am happy with my decision but in hindsight I understand the risk-reward equation much better. The onus of promoting the book here is on the author. It is not a get-rich-quick formula and many new (and impatient) authors don't realise this. Don't look at online opportunities as a lottery, rather come up with a strong product or service in your chosen field, writing, music, education, business, and learn the basics of marketing, finance and a little about how internet technology works. As with everything else, dedication, commitment and persistence will take you a long way."
With an MBA from University of Cambridge and a well-paying job in Mergers and Acquisitions, he left the corporate world five years ago. However, all his earnings now come from his online ventures He draws his experience from online ventures which include online resources for aspirants aiming for top global universities (MBA Crystal Ball), for building an online brand (Careerizma) and a repository of writing and publishing resources (Booksoarus), each of which helped him understand the nuances of the online world. By recognising your strength, further honing it and channelling it properly, there is no reason why you cannot create an online success story of your own.
The internet has reduced the world of networking to a few right taps where anyone and everyone you want to target is within reach. Whether you write, dance, sing, act, paint, photograph or do anything else that you think would enjoy an audience, you need not rely on anyone but yourself. As Soumya Shankar Ghosal, a published and award-winning photographer from Kolkata, says, "Who knew the 'horse ride stance' of the unknown Korean pop singer Psy until 2012 when he became a pop sensation with 'Gangnam Style', earning $8 million on YouTube with 2.5 billion views! It is the instant reach to a niche audience at a marginal cost that makes online publishing so lucrative. Integrating mediums like blogging, Facebook, Twitter, Instagram, Pinterest and other online resources can make for enhanced scalability. Smartphones have further augmented the reach of fresh, live and original content, turning nobodies into somebody of repute." As the curator of the first ever official Instagram exhibition managed by Facebook in India, SS Ghosal's work was featured in the exhibition, along with other Instagrammers.
Amar Deshpande (or Amar Vyas, pen name), author of Amol Dixit series of books and podcaster of MyKitaab, feels online publishing of books is today widely accepted. He started writing in 2008 when he began chronicling his journey as an online diary on a forum.
Moving on to blogging in 2013 on Wordpress as nrithebookblog.wordpress.com, he finally e-published his book targeting NRI readers in North America and the UK as his audience. He got nearly 5,000 downloads in two days.
With so much happening in the digital space, there is no dearth of opportunities for the passionate and the talented. You may or may not recognise Brandon Stanton by name but his Facebook page Humans of New York or HONY is one of the most widely recognised names around the world. Featuring candid photographs of people going about their everyday business, it has struck a chord with more than 12 million likes. Closer home, censorship has forced AIB or All-India Bakchod, to go the YouTube route where it has found whooping success — eight million views a week. The YouTube Fan Fest (YTFF) held in Mumbai draws around 5000 fans for a face-to-face with the biggest YouTubers from around the world, emphasising the importance of the medium.
---
Music on the mind
Mumbai-based band Sanam has seen their rise from obscurity to stardom riding on YouTube as a platform to reach their audience. With Sanam Puri as the lead vocalist, Samar Puri as the lead guitarist, Venky S. as the base guitarist, Keshav Dhanraj as the drummer and managed by Ben Thomas, the band has been together for nearly five years. Their YouTube singles have garnered them a fan following of more than one million, besides 11 million views per month. Says Ben, "The digital space is booming and it is the right place to test your music. You can get to know the response and understand the demographics; which region and age group enjoy it the most. Such feedback is invaluable when you are starting out and can help you improve your chances tremendously."
Top News
Prime Minister Narendra Modi and Uttar Pradesh Chief Ministe...
The election if required would be held on October 17, a firs...
Sujoy Lal Thaosen, Anish Dayal Singh appointed new director ...
Capable of supporting ultra-high-speed Internet, the fifth g...
As the govt rolls out the revolutionary 5G service, a look a...