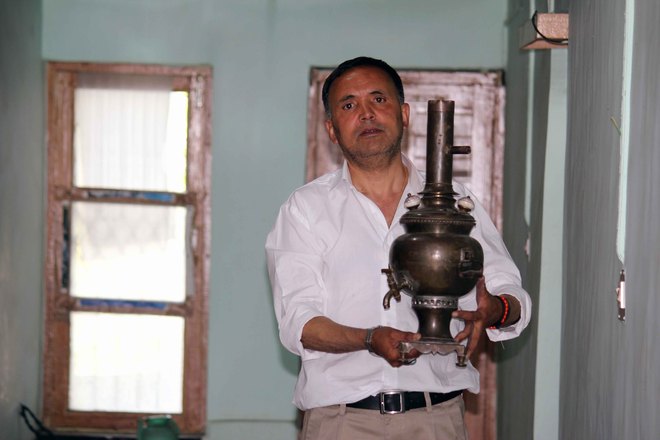 Azhar Qadri
Tribune News Service
Srinagar, May 23
From their hilltop home, the Munshi family has a panoramic view of Kargil town, once an important trading centre along the famed Silk Route from where caravans of traders rode on horsebacks to Central Asian cities carrying rich merchandise.
The lives of the Munshis and history of the Silk Route got intertwined in strange ways and today, the family owns a rare museum of artifacts which were once sold by the traders.
The Kargil town, divided from the Kashmir valley by Himalayan mountains, is located nearly 200 km from the Srinagar city and is equally distant from the towns of Leh, Padum and Skardu, a key factor for its being an important halt on the 6,437-km-long Silk Route, a network of trade and cultural transmission for more than 15 centuries.
The Munshi family got linked up with the Silk Route when Munshi Aziz Bhat, who lived through late 19th century, left the service of the erstwhile government as a record keeper and ventured into trading on the Silk Route.
Bhat build a sarai – inn – which is believed to be the first in Kargil district, for the travellers from Central Asian cities and became a hub for traders from Tibet, India and Baltistan. "The sarai is considered the only surviving inn of the Silk Route in Ladakh and north-west India," Munshi Aijaz Hussain, Bhat's grandson and the curator of Munshi Aziz Bhat Central Asian Museum, said.
Aijaz said his grandfather and father Munshi Habibullah, who became a leader of the National Conference, travelled to sell their merchandise to as far as Yarqand, a city in Chinese province of Xinjiang.
The artifacts were found by accident when Aijaz and his brother, Munshi Gulzar Hussain, who is now the director of the museum, decided to dismantle the inn. "When the inn was being dismantled, a labourer found six turquoise gemstones. We then thoroughly searched the inn and found wooden boxes containing merchandise of the trade," Aijaz told The Tribune.
"What we found inside was a treasure of artifacts and it took us 10 days to secure them," he said.
As the treasure was found, the idea of building a museum was also born. The treasure found from the rickety inn included archaic guns, necklaces, pots, utensils, coins, manuscripts, carpets, gold-plated horse straps and clothes, carrying marks of multiple civilisations and cultures that traded along the ancient route.
As the museum took shape, some artifacts were donated by others too, such as a long-barrelled gun gifted by a royal family of a nearby township. The museum is now operated by the two Munshi brothers and their nephew Munshi Muzummil Hussain, who heads its outreach and research unit.
"What we are trying to do is an attempt to revive the Silk Route because this place has lost its importance," Aijaz, the curator, said.
Top Stories