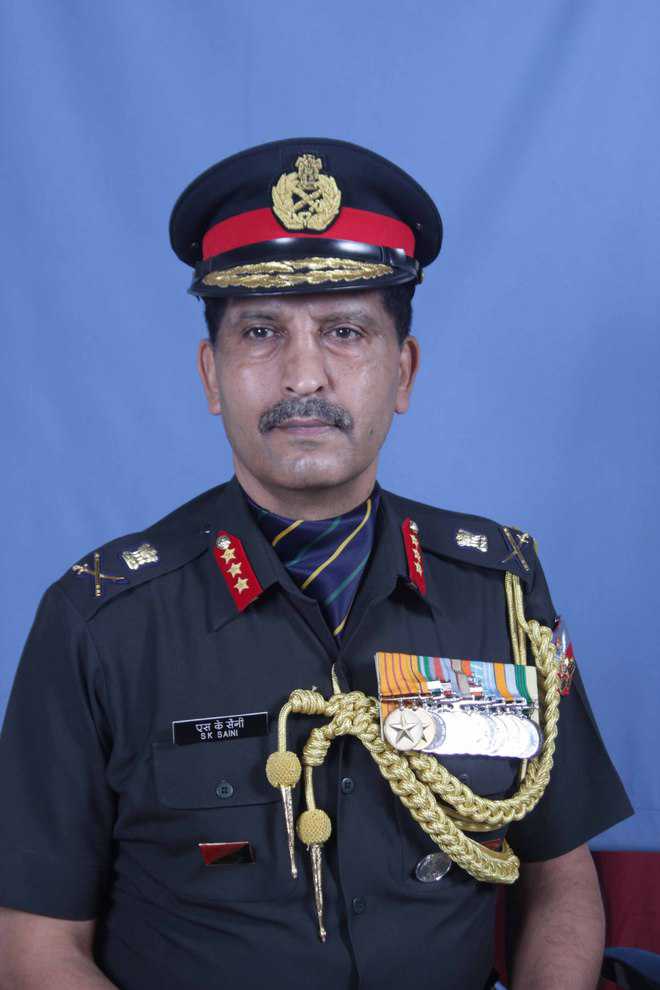 Tribune News Service
Dehradun, May 23
Lt Gen SK Saini has taken over as the 46th Commandant of the Indian Military Academy (IMA), Dehradun.
A highly decorated soldier, Lt Gen Saini, an alumni of the National Defence Academy (NDA) and the Indian Military Academy (IMA), was commissioned into the 7th Battalion of the Jat Regiment in June 1981.
The officer has an illustrious career spanning over a period of more than 36 years. He has held various staff, instructional and command appointments. He has commanded his battalion, a mountain brigade and a counter insurgency force in J&K. His staff experience includes appointment of Brigade Major of an Infantry Brigade, GSO1 (Operations) of an Infantry Division, BGS of a Corps, Director, Military Operations and other key appointments at the Army HQ.
Besides, he has been senior directing staff at the National Defence College (NDC) and a weapon instructor in the National Security Guards Training Centre.
The officer has excelled in various professional courses during his service and has many achievements to his credit. The new IMA Commandant is a graduate of the Army Command and staff course at the Staff College, Camberley, in the UK and has studied at the Royal College of Military Science, Shrivenham, UK.
Lt Gen Saini is a graduate of the National Defence College, Bangladesh, where he won the prize for authoring the best research paper. He has the distinction of holding three masters degrees in defence and strategic studies.
He is a vivid writer, who has contributed extensively in various journals, magazines and newspapers. He also presented papers on "Changing Face of Terrorism in Jammu and Kashmir" and "Regional Security Cooperation and Confidence Building" during the National Seminar on Non State Armed Groups and India's Security in the 21st Century and at the ASEAN Regional Forum Heads of Defence Universities/Colleges Meet.
Lt Gen Saini has been honoured with a number of awards, both gallantry and distinguished service. He has been awarded including the Chief of Army Staff Commendation, the Army Commander Commendation, the Yudh Seva Medal and the Vishisht Seva Medal.