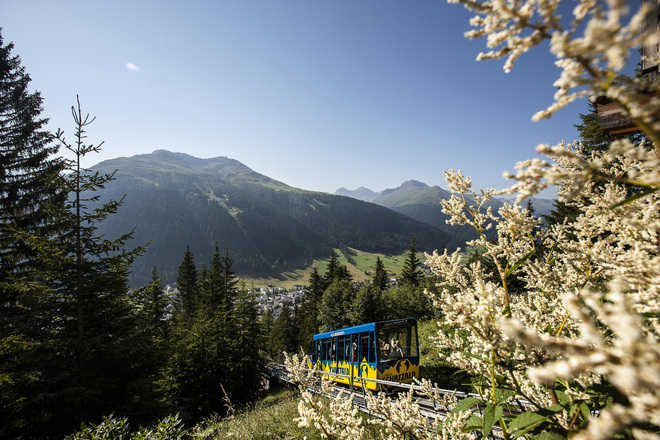 Ananya Bahl
On a sunny summer day, Davos — the highest town in the Alps — glitters with joie de vivre. The town, located in the north-eastern part of the canton of Graubünden, is a premier ski resort that's no less a star in the warmer months. The sun gleams for more than 12 hours a day, lighting up the Rhaetian Alps. Standing tall among these mountains is Schatzalp.
A four-minute funicular ride from Davos' main street takes you up 300m to this "magic mountain" — a moniker it earned because of German author and Nobel laureate, Thomas Mann's eponymous — and extremely influential — 1924 novel. It tells the story of a sanatorium in the Swiss Alps, and how its residents and their respective situations and personalities represent a microcosm of pre-World War I Europe. Fans and readers believe this sanatorium to be the luxurious Schatzalp, designed in art nouveau style by Zurich architects Otto Pfleghard and Max Haefeli. It was opened in 1900.
Willem Jan Holsboer, its founder, was surveying several areas before he stumbled upon this piece of land. At that point, he felt a surge of positivity at this location but couldn't attribute it to any one thing.
Years later, when the Bovis-Biometer was invented by scientist Alfred Bovis, they could logically attribute this positive energy to the fact that whatever lies above 6,500 Bovis-units, emanates an optimistic vibe. Some areas on the Schatzalp measure a whopping 26,000 Bovis-units!
In the early 1950s, the sanatorium was converted into Hotel Schatzalp, which is what we see today. The original interiors — of the dining room and lobby in particular — have been preserved. The founders drew inspiration from the English Arts and Crafts Movement, employing architecture from the region. Closeby is the Alpinium — a botanical garden that thrives with about 5,000 types of alpine plants that aren't restricted to just the Swiss Alps: some of these have been brought from the Himalayas, Pyrenees, New Zealand Alps and even Drakensberg in South Africa! Guided alpine botanical tours are organised every Wednesday afternoon from June to November. The elusive edelweiss can be found here, along with peonies, larkspurs, snowdrops, phloxes, and Lenten roses, along with an extensive kitchen herb garden.
Those with a spirit for adventure may choose to hike up to Schatzalp, instead of taking the funicular: the landscape lends itself to gorgeous trekking and hiking trails. It is also a fun spot for summer tobogganing — 500m of complete exhilaration and adrenaline rush for all ages! The Schatzalp Panoramic Restaurant is a relaxing place to cool off after the action and exploration. Their fondue, coupled with the scenic mountain vistas, is a match made in heaven!
More than anything, what grips the visitors here is an almost-tangible aura of romance. One can imagine Hans Castorp, the young protagonist of The Magic Mountain, still walking on the hotel's grounds or the elegant Madame Chauchat relaxing on one of its balconies even today!
Top News
He said people had not elected him to listen to 'hate speech...
Lok Sabha Speaker warns Bidhuri of strict action
India has also lodged a strong protest in New Delhi and Beij...
Kakar said that the UN Security Council must secure the impl...
No 'special exemption', says Biden adviser