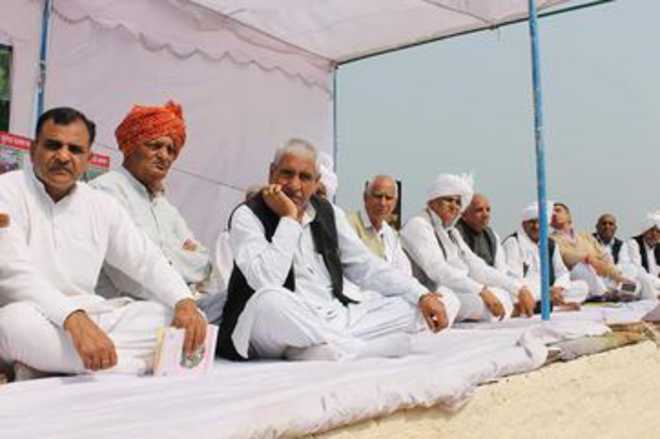 Parvesh Sharma
Tribune News Service
Jind, February 20
Nearly 60 leaders of khaps, along with agricultural experts, resolved to shun the use of pesticides during Sarvjatiye Sarv Khap Mahapanchayat at Nidana village in this district today.
The khaps today launched a state-level campaign to spread awareness about the ill-effects of pesticides and to convince farmers to shun their use.
They have decided to take up the matter with Haryana and Union Agriculture Ministries to demand a new agriculture policy under the name of Dr Surinder Dalal, who started "Know insects before killing them" campaign in 2008 in Jind.
Farmers of five Nidana, Nidani, Joura, Lalit Khera and Radana villages have adopted the campaign. They have identified 204 insects, and divided them into vegetarian and non-vegetarian categories.
With their experiment of last seven years, they have proved that pesticides are not required to keep insects away from crops. Farmers of these five villages have been pursuing farming without pesticides since 2008. Besides, they are working as Master Trainers (MT), training other farmers in pesticide-free farming.
Farmers who have pursuing pesticide-free farming are earning 25 per cent more profit than farmers, who have been using pesticides," said Ranvir Malik, an MT from Nidana village.
Khap leaders demanded that the campaign should be part of the new agriculture policy and MTs be recruited as government employees to utilise their services.
"We launched a state-level campaign today to convince all farmers in the state to shun the use of pesticides with the help of MTs," said Sarv Khap Mahapanchayat convener Kuldeep Dhanda after a meeting in Jatt Dharmshala here
The MTs will visit several villages on the invitations of khaps and train farmers in pesticide-free farming, he said.
Top News
Government seeks time from Governor for oath-taking ceremony...
Hand over medals to BKU chief
Locals, CRPF and police personnel rush to the spot and launc...
Home minister is currently visiting Manipur as part of effor...
Sahil had bought knife used in the crime from Haridwar aroun...