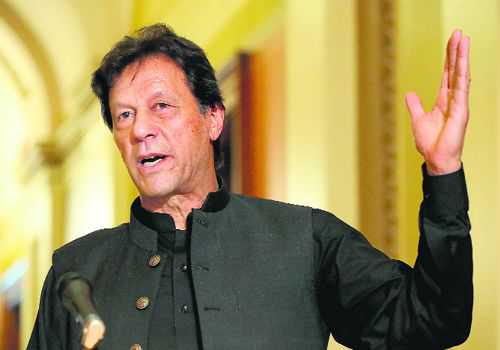 Vappala Balachandran
It is not very clear what Prime Minister Imran Khan had in mind when he said on September 29 at Islamabad airport that those standing by the Kashmiris were doing "jihad" and that Pakistan would support Kashmiris even if the world did not. Was he being alarmist as he was at the UN, or was he using a scaremongering hyperbole to impress the domestic audience?
Was it due to his frustration that his US visit did not result in any dramatic traction in favour of Pakistan's stand on Kashmir despite his aggressive UN speech, meetings with US leaders or major think tanks?
Was it a green signal to Pakistan's political and religious parties who were dissuaded by him on September 19 from marching towards the Line of Control (LoC) to show solidarity with the Kashmiris? He had said on that day after inaugurating the Torkham Terminal on the Afghan-Pak border: "If anyone from Pakistan goes to India to fight 'jihad', he will be the first to do an injustice to Kashmiris, he will be the enemy of Kashmiris." According to unconfirmed reports, Khan also asked them to wait till he forcefully presented the Kashmir issue "like never before" at the UN General Assembly.
Or worse still, was it his signal to unleash the Kashmir-centric non-state actors who were so far held in check through international pressure?
The Washington angle
Imran Khan's Torkham statement was applauded by Alice Wells, US State Department's Principal Deputy Assistant Secretary, on September 20 as an "unambiguous and important" call for restraint, although she also added that Washington DC would expect "sustained commitment" by Pakistan to rein in all terrorist groups to maintain regional stability.
For Imran Khan, there are also welcome signs from US Congressman Brad Sherman, Chairman of the US House Sub-Committee on Asia, who has announced that Alice Wells would appear before the Sub-Committee on October 22 to discuss the prevailing situation in the Valley, including human rights. Scott Bushy, Deputy Secretary in charge of democracy, human rights and labour in South Asia, was also expected to testify on Assam (NRC).
On September 26, Alice Wells, while addressing the 74th United Nations General Assembly, had said that the US wanted India to "rapidly" ease restrictions in Kashmir and that they were "concerned by the widespread detentions in the Valley". "We look forward to the Indian Government's resumption of political engagement with local leaders and the scheduling of the promised elections at the earliest opportunity."
In such a background, Imran Khan would not have decided to dramatically harden his overt policy towards India so soon after his return to Pakistan when signs are evident that the US is leaning on him to rescue the failed Taliban-Afghanistan accord. Zalmay Khalilzad was in Islamabad on October 1. Mullah Baradar too visited Islamabad. Also, Turkey and Malaysia, which had openly supported Pakistan on Kashmir, are likely to help during the Financial Action Task Force (FATF) inquisition in Paris.
Logic of the illogical
One instance comes to mind indicating Imran Khan's apparent inability to articulate a logical stand on tricky religio-political issues that have dominated Pakistan's history, which he now faces as the Prime Minister. This incident took place seven years ago when he was an Opposition leader. On October 14, 2012, he caused alarm in Pakistan and Afghanistan by justifying Taliban violence, calling it "jihad". He said: "The people who are fighting in Afghanistan against foreign occupation are fighting a 'jihad'."
The occasion he made this statement was also wrong. That was after visiting Malala Yousafzai in a Peshawar hospital after she was severely injured by the Pakistani Taliban in Mingora in Swat valley on October 9 for "preventing obscenity", as stated by Ehasanullah Ehasan, TTP spokesman. Imran Khan's statement then caused tremendous uproar in Pakistan, among the Ulema Council and in Afghanistan.
It is not that Imran Khan was unsympathetic to Malala. On July 13, 2013, he had tweeted: "Malala's courage and commitment to the cause of education, especially girls, is admirable." Or was it because of his admission, as The Guardian (UK) reported on October 14, 2012 that he would not publicly name the Taliban because "he feared it would put his party's supporters at risk".
Whatever might be his motive, it is clear that he is comfortable to run with the hares and hunt with the hounds. This is a dangerous strategy for a Prime Minister of a country which is being accused of being a terror factory. What then could we expect in a worst-case scenario, and are we ready?
Pakistan has already been given notice on October 1 by the US through Randall Shriver, Assistant Secretary of Defence for Indo-Pacific Affairs, to put a lid on militants to prevent a cross-border attack. Our own services are preparing for a sea or land-based 26/11-type surprise attack.
Should we expect a high-precision drone attack like the September 14 incidents on Abqaiq or Khuras in Saudi Arabia? Amazingly, even after three weeks, we do not have precise details from where these drones were launched. There is no doubt that we are very vulnerable here although Pakistan may not sponsor this type of attack when things are more favourable to them.
That does not mean that non-state actors would not. I would like to caution all concerned on an incident from Mumbai when none of our protective shields worked. On May 23, 2015, at about 5.55 pm, a Jet Air pilot aborted his take-off after alerting ATC on noticing five unmanned objects which looked like drones flying in a "tight" formation on his flight path. According to the Standard Operating Practice (SOP), the ATC asked an inbound flight not to land and alerted the CISF, police, IAF, INS Kunjali and Military Liaison Unit (MLU).
No clue regarding the identity was received till May 26 when police enquiries revealed that they were harmless celebratory "hot air balloons". For three days, rumours were agog that they were drones fitted with explosives directed against certain targets in Mumbai.
— The writer is former Special Secretary, Cabinet Secretariat
Top Stories