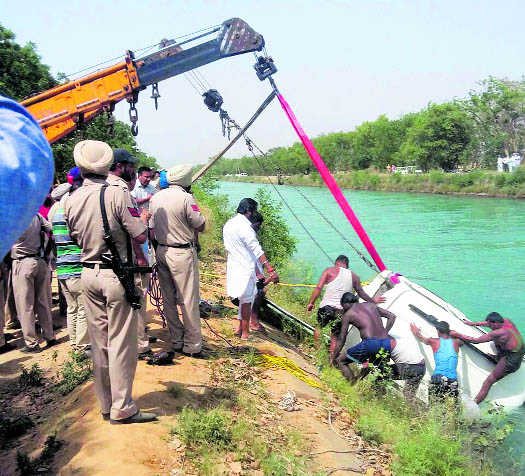 Tribune News Service
Patiala, April 20
A father and son duo lost their lives after the vehicle they were travelling on slipped off an overbridge and fell into Bhakra Canal here today. Retired Punjab Police inspector and present sarpanch of Aliwal village Hazoora Singh (63) is still missing while his son's body was recovered from the canal this afternoon.
The police have started a probe into the matter while divers were still trying to trace the missing ex-cop.
According to the police, Hazoora Singh was travelling with his son Gurpreet Singh in their SUV from Ghagga to Jaurhemajra, when their vehicle slipped off the overbridge and fell into the canal. Onlookers said for almost half an hour, no one noticed the vehicle in the water and later, someone raised an alarm when the vehicle's top was visible. The car was stuck badly in the flowing water and a crane had to be called to fish out the vehicle.
The police said while Gurpreet's body was recovered from inside the vehicle from the driver's seat, Hazoora Singh was not found inside the vehicle as the door on his side was open. "Prima facie it appears that he tried to get out of the vehicle, but could not escape and swept away by the flowing water current," they said.
The police added that the last call on the mobile phone recovered from the vehicle was registered at 9.34 am and the person who had called said he could not connect with Gurpreet Singh. "It looks that Gurpreet tried to take the call and another vehicle approached from the opposite side due to which he lost control over the vehicle following which his car skidded into the flowing water," they said.
The police have completed the proceedings under Section 174 of the CrPC.