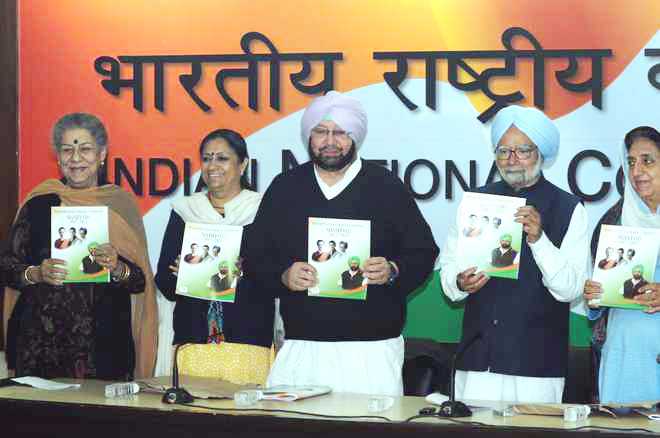 Aditi Tandon
Tribune News Service
New Delhi, January 9
Former Prime Minister Manmohan Singh on Monday released the Congress manifesto for Punjab and hailed state unit chief Amarinder Singh as someone whose leadership a financially-strained Punjab needed.
Blaming 10 years of Akali-BJP rule for the current economic mess in Punjab, Singh described the state manifesto of Congress as a forward-looking, visionary document that will help put the state back on track.
(Follow The Tribune on Facebook; and Twitter @thetribunechd)
Releasing the manifesto in the presence of Amarinder Singh, Ambika Soni and AICC Punjab in charge Asha Kumari here, the former prime minister said: "Punjab is a state with potential, but this potential was not utilised in the last 10 years.
The people of Punjab need a better tomorrow in terms of agriculture and manufacturing. Captain sahab's leadership is badly needed by the state. I sincerely believe that under the leadership of Capt Amrinder Singh, we will undo the damage done to Punjab in 10 years. People of the state will have higher per capita income and better infrastructure and agriculture growth. "
Former Punjab Chief Minister Amarinder Singh gave details of the manifesto, which promises to hit at drug cartelswithin four weeks of government installation, ending VIP culture, one job per family, waiver of Rs 67,000 crore farm loans, houses to the homeless and free education for weaker section girls from KG to PhD.
Read: Cong manifesto sacred promise to people, vision document: Manpreet
"We took six months to prepare the manifesto. We have gone through villages and reached out to the people. In Punjab we have Rs 5 crore deficit in budget. To tide over all this we have come with programmes for people from every walk of life. Rural debts are Rs 67 000 crore.We will negotiate with the banks so farmers don't have to pay, " Amarinder Singh said.
He referred to Congress ' Ghar Ghar main Naukri' plan to target 90 lakh new voters this time in the age group 18-35 years. The Congress has also promised Rs 2,500 stipend to unemployed youth registered in the state till they get jobs.
"We will stop drugs in four weeks' time, create an industrial pool, offer 33 pc reservation for women in government and contractual jobs, "Amarinder Singh said adding that he will keep all the promises.
He also mentioned the creation of Guardians of Governance department in the CMO and ex-servicemen will be overseeing progress of schemes for veterans.
Among other sops Congress offered to end 10 year exile in Punjab is free smart phones for students.
Manmohan on demonetisation
"Demonetisation will have an impact on the elections of Punjab. I said in Parliament that it would adversely affect GDP growth. New data shows GDP down from 7.6 per cent to 7.1 per cent. Demonetisation will deeply harm GDP growth," the former prime minister said.

Highlights:
—No travel for CM in state helicopter
—No state banquet to anyone, except foreign dignitaries
—One job for every household
—Total elimination of political interference in police functioning
—Commission of inquiry to find false cases registered against political activist during last 10 years
—Police and political nexuses would be broken
—Free insurance for police
—Third-party audit of expenditure in last three years
—Teachers for teaching only, no other duty
—Free textbooks to all students, books would be available online also
—200 scholarships for bright students to study abroad under the Partap Kairon scholarship scheme
—Electricity tariff for industry pegged at Rs 5 for five years
—Freight subsidy for industrial products
—No advance tax, no imprisonment for traders in tax cases
—33 per cent reservation in all housing schemes
—50 per cent jobs to Punjab residents in industry
—Old-age pension Rs 1,500 per month
—Public sector thermal plants will be run at optimum level, re-negotiation with private thermal plants on electricity rates
—New ministry for retired defence personnel
—Free education for girls from Class 1 till PhD
—Special security scheme for media
—State kitchen to provide meal at Rs 5 per head
— Ending VIP culture: Abolishing red beacon lights except on emergency vehicles, 90% cut in security personnel for politicians and officials, 2-year ban on foreign travel except where mandatory, medical insurance to reduce financial burden on government.
— Punjab river water for people of the state only: No new canal construction, including SYL, to be allowed.
— Zero tolerance for drug business
— Employment generation: Shaheed Bhagat Singh Employment Generation scheme for youth, unemployment allowance of Rs 2,500 per month till job provided to those registered with the bureaus.
— Agriculture & Allied Occupations:Farm loan waiver, free power to farmers, increase in crop compensation, crop insurance.
Top Stories