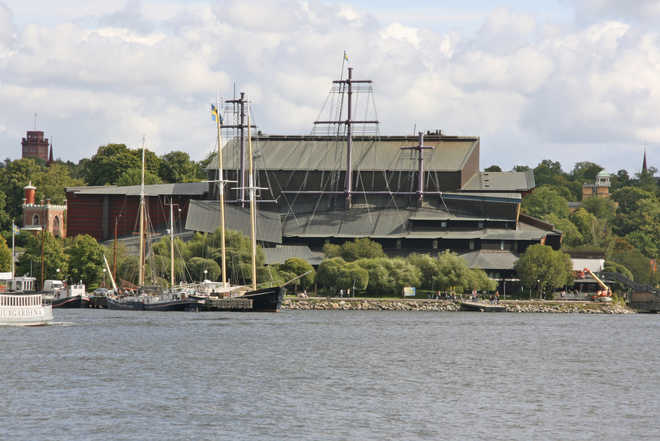 Salil Desai
If you have ever wanted to experience a 17th century sea voyage, just step aboard the unique Vasa Museum in Stockholm. Vasa was a 64 gun battleship, which sunk, along with its crew, on its maiden expedition, within minutes of leaving Stockholm harbour on August 10, 1628. For three centuries, it lay at the bottom of the Baltic and was finally salvaged in 1961. After raising the wreckage of the ship, Swedish technicians set about restoring it, a project that spanned three decades.
Located on Djurgarden, an island in central Stockholm, Vasa, resplendent in its original glory and formidable scale and size, is the only preserved 17th century ship in the world. The ship's structure, 69 metres long and 50 metres tall, towers imposingly as you enter. It's awe-inspiring, and for several minutes, visitors just stand rooted to the ground, their mouths gaping, staring at the spectacular wooden marvel and hundreds of painstakingly restored carved sculptures that bedeck this nearly 400-year-old vessel.
The whole ambience of the museum has been crafted to generate an atmosphere that makes this page of maritime history come alive. The punctured pride of Vasa as it sank and lay humbled on the seabed for 333 years, the pathos of the drowning crew, the groans and creaks of its aged wooden hulk being raised, you feel it all with an indelible intensity.
Particularly amazing is the dedication, skill and determination shown by the team which restored Vasa. It is claimed that 95 per cent of the ship is original, which makes it a truly astonishing feat because it involved several years of specially treating and preserving thoroughly waterlogged wood, that is prone to crack as it dries up. Retaining the original material, matching the old joints and designs with the new, and in this way recreating the ship inch by inch, is surely a splendid art-form by itself! Moreover, such restoration requires a unique feel and oneness with the history and people of a long bygone century.
The Vasa museum offers an invaluable peep into Swedish and European customs and culture, 17th century navigation and naval warfare, life on board ships, ship-building and symbolism behind ship sculptures. Alongside well preserved exhibits from the ship's wreckage, multimedia tools like films, slide shows and dramatised audio-visual skits enthral visitors with nuggets of information.
A truly remarkable experience is to walk around the original artefacts and life size replica of the ship's interior. This includes a full-scale model of the upper gun-deck and a section model of Vasa's interior, showing how the crew lived and worked — 450 sailors crowded into less than 600 square metres of space, sleeping in shifts, eating from shared bowls, facing disease, brutal punishments and a back-breaking routine. Results of research on the skeletons of 11 persons recovered on Vasa are also showcased and we can see what the dead sailors looked like when alive, the food they ate and the diseases and injuries they had.
One can easily spend a fascinating half-day at Vasa and yet feel reluctant to leave. No wonder Vasa receives more than one million visitors every year.
Top News
Harried passengers take to social media to vent their ire at...
Lapid had stirred a massive controversy by terming Vivek Agn...
Voter turnout less than 66.75 pc recorded in first phase of ...
DigiYatra will provide seamless entry and embarkation proces...
His song 'Mahakaal' removed from YouTube after 19 hours