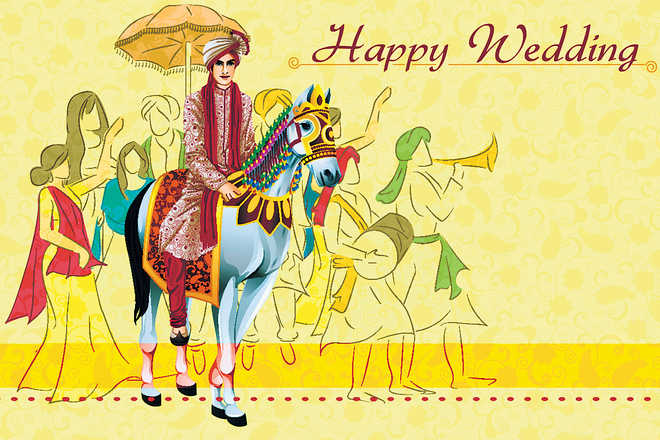 Vijay C Roy in Chandigarh
Want to get married at a private island somewhere in Mauritius or in a jungle resort near animal safari in Tanzania or in the languorous blue lagoon in one of the pristine beaches in Morocco? Exciting! Indians are legendary for their never-ending desire to make wedding the most memorable affair in their lives: lavish and colourful. So what if it burns a big hole in the pocket!
One of the key concerns associated with destination weddings is that fewer guests may be able to attend. Not everyone will want to travel to a destination wedding, and invariably those who attend will be very close to the couple. That's perhaps a reason why people with deep pockets have developed a culture of conducting smaller destination weddings with 200-500 people. The trend is: come back and host one big reception accommodating the left-out friends and family members.
Market researchers report that in the last four-five years, Indian weddings have been exported to Indian Ocean islands, European countries, Turkey, Cambodia and what have you. Would-be couples fly abroad with their family and friends to make it a multi-crore event. Normally, a destination wedding costs at least Rs 1 crore. Good news is many Indians are happy spending.
Global property consultant Knight Frank reports the number of ultra-high net worth individuals (UHNWIs) in India rose 290% in the last decade. During the period, around 500 new UHNWIs were added annually in India. Over the next decade, it is likely to increase to 1,000 every year. The UHNWIs are people with net worth of over $ 30 million. They comprise the richest people in the world and control a disproportionate amount of global wealth.
The wedding mart
A survey by Wedding Tourism Report by MRSS India, one of the largest independent market research agencies in the country, says the Indian wedding market is pegged at Rs 1.10 lakh crore of which around Rs 23,438 crore comes from destination weddings (home and overseas locations). These weddings show a healthy growth year-on-year. This opens up enormous opportunities for wedding planners and are a good enough indicator that India can cash in on the wedding tourism segment in a big way.
There are specialized agencies that cater to the lucrative segment of destination weddings. And they are adept at the making the whole event a sweet and memorable affair: designated experts ensure that it will be like a holiday rolled into a wedding. The experts leave no room for any tensed moments as all arrangements are taken care of. Right from the parents of the bride and groom to the family and friends, all are promised a fabulous experience to go back home with.
Zuzer Lucknowala, MD, Party Cruisers Ltd, is happy at the growth of such weddings. "This has been a trend that has caught up over the last five years. The earlier destinations were Thailand, Bali, Indonesia and the South East. The preferred choices have now extended to lesser known countries of Europe, the Indian Ocean, Africa and the Far East. According to rough estimates, every month at least 35 Indian weddings take place overseas.
Zuzer's company, which is now into 23rd year of operation, ventured into destination weddings five years back and started 'Vivaah', a wedding decor and design company specializing in big fat Indian wedding. The company is the wedding division of the parent Party Cruisers.
The global market
Prerana Saxena, director, Theme Weavers International (P) Ltd, says to attract Indian wedding planners, many countries are hosting all-expenses-paid familiarization trips for wedding companies from India to showcase their alluring destinations, venues and hotels. The company is opening its London office soon.
There is a reason for overseas weddings. For instance, Cambodia in South-East Asia offers a taste for an opulence and extravagant wedding because of proximity with India. Siem Reap (Cambodia) is a dream destination as Indian families love the warmth of this quaint city, with its beautiful culture and great Hindu temples. The temples at the Angkor Archaeological Park, a designated UNESCO World heritage site, give a magnificent backdrop for wedding photos.
Antalya in Turkey is a surprise preference. "It could be because of cultural ties plus a feel of Europe as Turkey is a transcontinental country," says a wedding planner. Antalya offers stunning scenery, historic aspects, five-star hotels and a warm climate. The flight to Antalya is five-and-a-half hours, which is not a long distance from India.