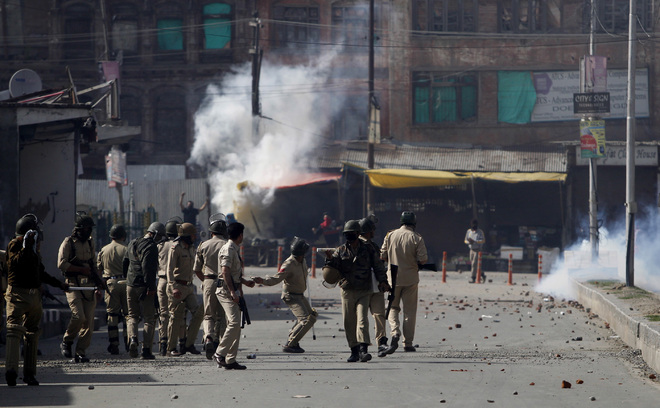 Azhar Qadri
Tribune News Service
Srinagar, April 17
Two days after separatist leader Masarat Alam raised pro-Pakistani slogans and flags during a rally, he was arrested today on charges of "provocative and seditious" sloganeering.
The authorities thwarted separatists' march to Tral where two youths recently died in an encounter with the Army. Masarat's arrest coincided with violent clashes in Srinagar where protesters, led by moderate separatist chief Mirwaiz Umar Farooq, burnt the national flag and hurled stones at the police and paramilitary personnel against the Tral encounter.
(See video: Separatist leader arrested)
(See video:Hardliner's arrest: PDP denies acting under pressure)
(See video: Pakistan condemns case against Geelani)
Masarat, a key deputy of hardline separatist chief Syed Ali Shah Geelani and the architect of a massive agitation in 2010, was arrested this morning from his residence in Srinagar's old city that ended his 42-day release after four-year detention. He was briefly detained at the city's Shaheed Gunj police station before being shifted to Budgam, where a case has been registered against him and other separatists. A government spokesman said Masarat has been arrested for "seditious activities" at a rally to welcome Geelani after his return from New Delhi. He said initial investigation revealed Masarat was "involved in leading the crowd to raise anti-national slogans and hoist Pakistani flags".
Masarat has been booked on multiple charges, including non-bailable Section 13 of the Unlawful Activities Prevention Act, advocating and abetting commission of any unlawful activity, and 120-B of the Ranbir Penal Code, being party to a criminal conspiracy.
Masarat's arrest seems to have jeopardised CM Mufti Mohammad Sayeed's attempt to reach out to separatists. Sayeed has been espousing a softer policy towards separatists and has repeatedly said that he would take along "all stakeholders, mainstream and others" on the path to peace. The hardline separatist faction led by Geelani criticised the CM saying he had adopted policies of the previous government and his slogan of "battle of ideas" had been punctured.
BJP general secretary Ram Madhav said the state government had acted on its own in Masarat's case and his party had not exerted any pressure on the state government.
However, the arrest came a day after Home Minister Rajnath Singh called up Sayeed and asked him to take "strictest possible action", following which the proposed separatist rally to Tral town of south Kashmir was also scuttled and Geelani was put under house arrest.
The hardline separatists had planned to hold a march on Friday towards Tral town, where the brother of a militant commander was killed by the Army earlier this week.
Masarat's arrest came after a media outcry that focused on the display of Pakistani flags and his anti-India and pro-Pakistan sloganeering.
The media coverage of the rally, which focused more on Masarat than on Geelani, angered the hardline separatist faction that issued a threatening statement and warned the media by saying that "all reporters and correspondents" had been discussed at its meeting on Thursday and accused them of a "criminal character".
In his latest statement, Geelani called for a shutdown to protest, what he called, the "negative propaganda" by the media. Geelani said the shutdown would also be a protest against the killings in Tral and arrest of separatist leaders.
Top News
Polling began at 8 am and will continue till 5:30 pm
Over 1.45 crore electors are eligible to exercise their fran...
In his speech at IFFI-2022, Lapid had said he was 'disturbed...
The seized drugs are the spurious versions of leading brands...
The follow-up programme of Bharat Jodo Yatra will have yatra...