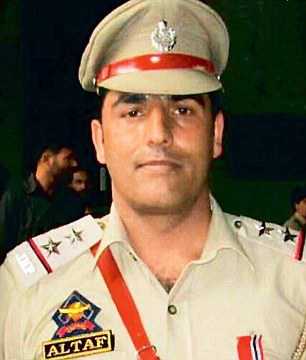 Majid Jahangir
Tribune News Service
Srinagar, March 18
The Jammu and Kashmir Police have charge-sheeted six men, including separatist leader Masarat Alam's close associate, for murder in a case involving killing of top counter-insurgency officer Altaf Ahmed in north Kashmir's Bandipora last year.
The accused have been booked under Sections 302 (murder), 307 (attempt to murder), 120-B (criminal conspiracy) and 427 (damaged to property) of the Ranbir Penal Code, Sections 16/18 (being a member of terrorist organisation) of the Unlawful Activities Prevention Act and 7/27 (possession and use of arms) of the Arms Act in the killing of Sub-Inspector Altaf Ahmed. They include Muslim League leaders Showkat Hakeem (a close aide of Masarat) and Mehraj-ud-din, both residents of Hajin in Bandipora. The Muslim League, which is a constituent of the hardline Hurriyat Conference of Syed Ali Geelani, is headed by Masarat Alam, who is in custody.
Two drivers Manzoor Ahmd Parrey and Mohammad Younis Khanday have also been chargesheeted in the case. The chargesheet was filed on Thursday before the court of the Chief Judicial Magistrate, Bandipora.
Lashkar-e-Toiba commander Abu Qasim, who was killed in a gunfight in south Kashmir in October last year, has also been named as accused in the case along with another local militant of the Hizbul Mujahideen Towseef Ahmad Sheikh, a resident of Qaimoh Kulgam. While the four accused are in custody, Sheikh is still absconding.
Sub-Inspector Altaf Ahmed, one of the finest counter insurgency officers of the J&K Police, was killed on October 7 last year in a militant attack when he was chasing Abu Qasim, who was also wanted by the National Investigation Agency for the Udhampur attack in August 2015. Altaf was instrumental in arrests and killing of many top militants since 2000. Altaf had also generated technical input which led to the arrest of separatist leader Masarat Alam during the 2010 protests.
"All the accused facilitated Lashkar commander Qasim in killing the police officer. All accused, including Qasim, had stayed in Sumbal (Bandipore) for the night and the next day they divided themselves into two groups and boarded two vehicles. Showkat and Mehraj boarded one numberless vehicle and Qasim along with other militants boarded a Tata vehicle. Showkat and Mehraj were escorting Qasim to inform him about the movement of police and security forces," the challan said.
"While on their way to Bandipora when a police naka was noticed by Showkat and Mehraj, they shouted 'Qasim bhai police wale hain, une mar dalo' (Qasim brother police men are here, kill them). Qasim and the other militant came down from the vehicle and opened fire on the police killing Altaf. The militants and all other associates managed to escape. Showkat, Mehraj and two drivers were later arrested by the police during investigations," it added.
The investigation said Altaf, the head of the Special Investigation Team of the J&K Police, was chasing Qasim, who had gone to Bandipora to receive a group of freshly infiltrated militants. Altaf had received an input about Qasim's movement. The police had also seized both vehicles during the investigation.
Top Stories