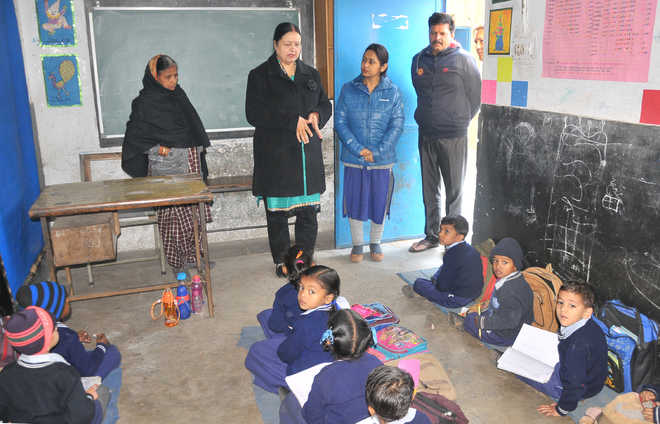 Charu Chhibber
Tribune News Service
Chandigarh, February 1
Following news reports carried in these columns highlighting the plight of students of government primary schools at Railway Colony and Mauli Jagran in the absence of basic infrastructural facilities, city Mayor Asha Jaswal today visited both schools to take stock of the situation.
The Mayor, along with Deputy Mayor and area councillor Anil Dube, has identified a vacant piece of land at Mauli Jagran for the construction of a new school building. As an immediate measure, the Mayor ordered provision of good-quality mats to the students of both schools, who are forced to sit on the floor in the absence of proper classrooms and furniture. "The 'dari' that is used by students is tattered and old, which provides no protection against the cold," she said.
She also directed that repair works be carried out in both schools and broken windows be fixed at the earliest. She also directed that microwaves be provided at the schools so that the staff can have warm food.
"The school at Mauli Jagran is running in an old building that is not even meant to house a school. The Deputy Mayor, who is also the area councillor, was called and we identified a vacant plot where a new school can be constructed," said the Mayor, adding that she had already drafted a letter and would soon hold a meeting with the Adviser and the Home Secretary in this regard.
"I will also talk to officials of the Education Department. We want the best for our students," she said.
The Mayor said at Railway Colony, she noticed an overall lack of cleanliness.
"I intend to talk to the railway authorities about the overall lack of cleanliness, particularly in the area adjoining the school. Cleanliness is crucial to students' health," she said.
Both schools under MC
Both schools have been functioning under the Municipal Corporation ever since seven government primary schools in the city were transferred to the MC by the UT Education Department six years ago.