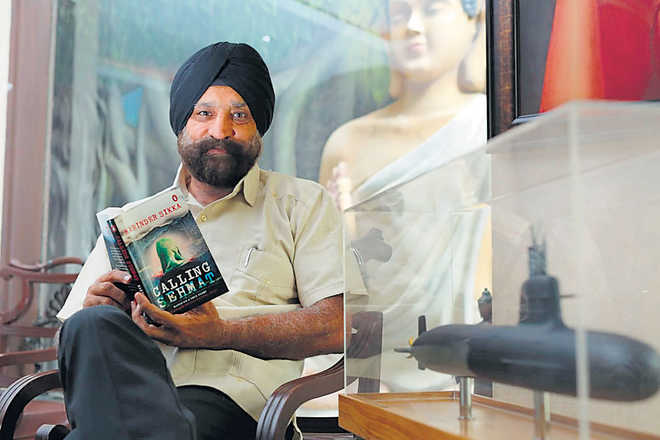 Harinder Sikka
My journey with Calling Sehmat, the book, began at the Kargil battle theatre where I had gone as a freelance journalist with due permission from the then Adjutant-General, Lt-Gen SS Grewal. I had retired from the Indian Navy prematurely as Lt-Commander in June, 1993, and joined the Piramal Group in 1994 as the head of its operations in Delhi where I was working when I decided to cover the war.
What I encountered there filled me with rage — the kind of attack our soldiers faced showed a high level of preparedness by the Pakistani forces. What had our intelligence been doing? How could they miss such vital signs of an imminent attack? This frustration made me lash out in anger in the presence of some soldiers around me. One of them turned around and calmly said, "Not everybody is a traitor. My mother wasn't."
This was the first time I heard about Sehmat. Till now, I had decidedly been considering myself a brave man, leaving my family and a corporate job behind to go to Kargil and write about soldiers. But when I learnt her story, it punctured my ego. Here was a woman, a Kashmiri Muslim, whose courage and bravery were matchless. This is what triggered my search for Sehmat. I wanted to bring this unsung warrior's story to the Indian people.
My search took me to all those places, including in Pakistan, where she had lived. Her love for the country and belief in her karma made her undertake all those acts, including killing, which were against her very nature.
When I first went to meet her at Malerkotla, she stepped out and said, "I don't want to meet you." She shut the door on my face and went inside. It was 10 am. She was very firm and sure about not talking to me. And I was very sure that I would talk to her. I decided to sit outside her house. Finally, at around 5 in the evening, she relented and said "come in."
These simple words were the start of a long and arduous journey. However, it helped change my whole perspective on life, thanks to this wonderful, saintly woman.
She was a miracle in my life. I am not a filmmaker but she asked me to make a film on Guru Nanak. Nanak Shah Fakir won three national awards, and was greatly appreciated at various film festivals, including Cannes. A R Rahman compared its scale to Lawrence of Arabia.
Calling Sehmat was initially printed in 2008 by a small publisher (Konark). A decade later it was picked up by Penguin and subsequently made a successful film. Meeting Sehmat was definitely the biggest blessing of my life.
Sehmat's father, Hidayatullah, a businessman, was a diehard patriot. He had extensive trading links in Pakistan. He was also working for the Indian intelligence agencies obtaining information about the plans of the Pakistani army which was preparing to launch an offensive on India. Before the 1971 war, he was diagnosed with cancer.
Brigadier Sayeed was Hidayatullah's friend and contact in Pakistan. They were also related to each other. When cancer-ridden Hidayatullah realised he had little time, he sought Sayeed son's hand in marriage for Sehmat, to carry out what he might not finish with a war looming over the country. Both Sayeed and his son accepted immediately, as Sehmat was quite beautiful.
In an ultimate sacrifice, barely-trained Sehmat was planted as a spy in Brigadier Sayeed household. She was strictly advised to just listen and observe things. She was given basic training to install and relay SOS messages using Morse code, in case of an emergency.
Soon Sehmat won everybody's confidence and rapidly infiltrated the inner circle of Pakistani defence. It speaks volumes about her initiative, confidence, guts and risk-taking capabilities. She also began teaching at an army school where children and grandchildren of the Pakistani army top brass studied, including Gen Yahya Khan's grandchildren.
Her influence helped Brigadier Sayeed gain top ranks within the crucial Pakistani intelligence network. It was at this juncture that Sehmat found about Pakistan's plans to attack Indian warships. She passed crucial information about positioning of Pakistani submarines at the Bombay and Visakhapatnam harbours. This information matched with the intelligence in possession of the Indian Navy. As a consequence, the Pakistani submarine Ghazi was sunk at the mouth of Visakhapatnam harbour with all hands on board. The other two, Hangor and Mangrol escaped but not before launching a deadly attack on INS Khukri.
Sehmat's story is one of raw courage. Her information saved thousands of lives. India emerged victorious yet again. But both sides paid a heavy price for the Pakistani jingoism and misadventure. In the wake were also left two destroyed families and Sehmat who was brought back from Pakistan in a state of deep depression.
It took many years and the divine healing of a saint that enabled Sehmat to return to a life of normalcy. But it led her to live the life of a recluse, a life she chose after all that she had been through and lost. During my interactions with Sehmat over the years, I found her strong yet compassionate. She had an air of such gentleness around her that it was difficult to imagine her capable of harming a squirrel, let alone cold-bloodedly killing a human being.
Yet, what Sehmat accomplished should be an eye opener to anyone who questions the patriotism of Kashmiri Muslims.
Meghna Gulzar as the director and Alia Bhatt in the protagonist's role have done full justice to Sehmat's story. As Mahesh Bhatt rightly said in his tweet, "We are as good as the stories we tell. Thank you for sharing with us the incredible story of an incredible woman — Sehmat".
I hope this message finds an echo in the hearts of the new generation, especially in Kashmir, the land which gave birth to Sehmat. Amen to more Sehmats and not Burhan Wanis.
— Sikka is the author of Calling Sehmat. Meghna Gulzar's film Raazi is based on the book, reviewed on page 6
Top News
Over 3,000 tourists from various parts of country reported t...
Third top leader of AAP nabbed by a central agency in a year...
Bench led by Justice Sanjay Kishan Kaul directs Centre to fu...
Indian javelin star threw 88.88m, a season's best, to clinch...
Agency alleged Kapoor received money for performing at the w...