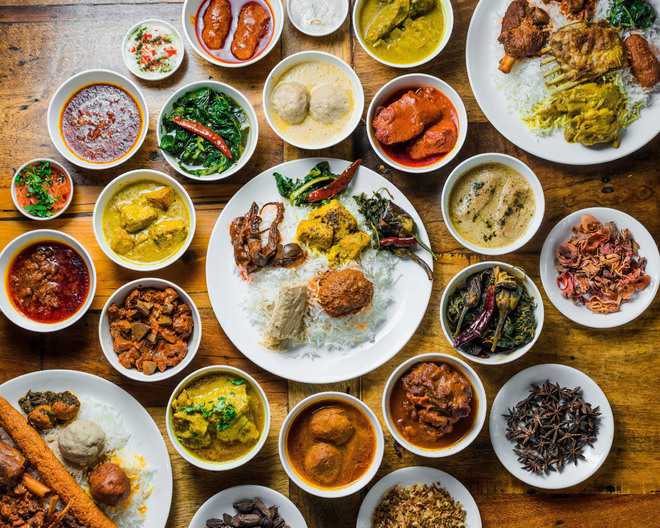 Arushi Chaudhary
The key differentiator in the Pandits' food, which includes dishes like muji chetin, dum aloo, nadru yakhni, haak, besides rogan josh, is that there is no use of onion or garlic. The dishes are prepared by relying on spices such as asafoetida, cumin, cardamom and a special variety of Kashmiri chilli
Think of food from Kashmir, and you automatically think of the rich wazwan cuisine, complete with its vast spread of luscious meat dishes, naans, biryani and rice, noon chai, and of course, kahwa. But there is another facet to the food heritage of this land. It is the Bhat or Kashmiri Pandit cuisine, which has largely been driven into obscurity. In Kashmir, the Pandit's cuisine is a rare find in restaurants, with the exception of one-odd place like the Pine Retreat in Pahalgam that organises an authentic Bhat-waza culinary experience for diners, putting dishes like dum aloo, nadru yakhni and haak on the same platter as rista, gushtaba and tabak maaz. A new generation of homecooks and professional chefs from the Kashmiri Pandit lineage has taken it upon themselves to reverse that trend and bring the flavours of their lost homeland to the fore.
A shining champion of the cause is Sandeep Pandit, a Kashmiri who created ripples on the reality cooking show Masterchef Australia this year by displaying his culinary heritage on a global platform with dishes like rogan josh, yakhni and muji chetin. On the home turf, many are following a similar path.
Donning the chef's hat at 58
Rajni Jinsi, a 62-year-old home cook, forayed into showcasing the delicate charm of the food of Kashmir's Pandits about three-and-a-half years back with a pop-up at Holiday Inn in Delhi and hasn't looked back since. Today, Rajni not only spearheads food festivals at hotels across the country — The Park in Delhi and Chennai, Hotel Leela and Crown Plaza in Gurugram, Narendra Bhawan in Bikaner, Vedic Village Resorts in Kolkata and JW Marriot in Chandigarh, to name a few — but has also opened her own takeaway joint by the name of Rajni's Kitchen that caters to small gathering of nine or less persons for events such as house parties, office functions or just a group of people wanting to try this cuisine.
"I moved out of Kashmir after my wedding in the early 1980s, long before the trouble began, but my culinary heritage remained a big part of who I was. Even in Kolkata, where I lived with my husband, I'd cook elaborate Kashmiri meals for every special occasion, and my cooking received a lot of appreciation not just from Kashmiris but also Bengalis and people from other parts of the country in our social circle. This gave my confidence a huge boost and inspired me to continue cooking. Years later, we relocated to Delhi, and this opportunity to host a pop-up came my way, thanks to the word-of-mouth publicity my food had earned. Having fulfilled all my domestic responsibilities, I thought it was time to pursue something that I loved. I took the plunge of donning the 'homecook's hat' at the age of 58," Rajni says.
"Cooking the food of the Pandits is a refined ritual in itself and requires some culinary craftsmanship, which is what I endeavour to showcase. Despite being Pandits, meat is a prominent feature is our food and a lot of dishes have different renditions in the Bhat and wazwan cuisine. For example, the way we make rogan josh is very different from how it is made in the wazwan cuisine. This authentic preparation and play of flavours is what I aspire to highlight. So far, the response has been so encouraging and heart-warming that it keeps me going despite my years."
Carrying forward the heritage
Usha Nehru, a 60-year-old home chef from Mumbai, has a similar story to share. Long after she left Kashmir, Usha continued to cook the food she and her family had grown up eating for family gatherings and special occasion. The continued encouragement from family and friends drove her to showcase the food in a community event within in her society a few years back. With that began her journey of putting the native food of Kashmir Pandits on the tables of food lovers in the cosmopolitan city of Mumbai.
"There is so much to Kashmiri food than just gushtaba and rista that most people know about, and Kashmiri Pandits' food goes far beyond dum aloo. This journey has helped me showcase just that. I host pop-up meals at my place, hosting a maximum of five to 10 persons at a time, since I like to do all the cooking myself to keep the flavours absolutely authentic. The key differentiator in the Pandits' food is that there is no use of onion or garlic. Instead we rely on spices such as hing (asafoetida), jeera (cumin), elaichi (cardamom) and a special variety of Kashmiri chillies that are high on colour but low on hotness to get that rich colour, texture and depth of flavour to our food. This is what sets out cuisine apart, and I have been pleasantly surprised to see how many people's palates these flavour agree with," Usha says.
Over a year ago, Usha got the opportunity to feature her food on a web portal named Aunthenticook that highlights regional cuisines, which has lent momentum to her pursuit of taking this largely lesser-known food to the masses.
Celebrating the region
Not just home cooks, trained chefs and hospitality professionals too are giving up their cushy jobs in the quest of spreading the flavour of their homeland across the country and beyond. Sanjay Raina, a hospitality professional and IHM PUSA alum, changed the course of his career to start his own venture, Mealability — The Flavor of Kashmir, which heroes both wazwan and the Pandit's cuisine.
"Cooking had been my passion since childhood and I spent a lot of my early years in the kitchen, watching my mother and grandmother cook, and eventually, learning from them. A career in the hospitality industry gave me an insider's view of what it is like to survive in industry, helping me understand and withstand the pressures as well as developing a keen eye for what works and what doesn't. Eventually, I gave up my full-time job to start Mealability, which highlights and celebrates both the cuisines from my native land in the most authentic way possible," Sanjay says.
"This experience has been absolutely fabulous. People's response to this beautiful and intricate regional cuisine is the biggest reward of having embarked on this journey."
Reaching out to the world
Nalini Sadhu, owner of Matamaal, a restaurant in Gurugram dedicated solely to Kashmiri Pandit cuisine, has given her journey as a homecook a professional spin with this venture.
"My journey with Kashmiri cuisine started right after my marriage, when I inherited the age-old family recipes from my mother-in-law. My husband, Surinder, and I have always cherished good food. Over the years, we have worked together to master the recipes," she says.
"This journey started with my first commercial event, a pop-up at Hilton in Bahrain in the early 1990s. We continued showcasing the Kashmiri spread to our friends and food enthusiasts we came in contact with through the year, which led to my sister and me hosting the Kashmiri Food Festival at Raffles Hotel in Singapore in 2001. This was followed by a stint showcasing Kashmiri cuisine through 'home-food' delivery apps. There was a clear sense that for the first time Kashmiri Pandit cuisine was being recognised and appreciated. This was the final push we needed to pursue of dream of reaching out to the world with Kashmiri cuisine and culture, and Matamaal was born," Nalini adds.
Matamaal means 'grandmother's home' and that's exactly the kind of cozy, comfortable place this restaurant with sit-down and shikara-style dining option transports you to.