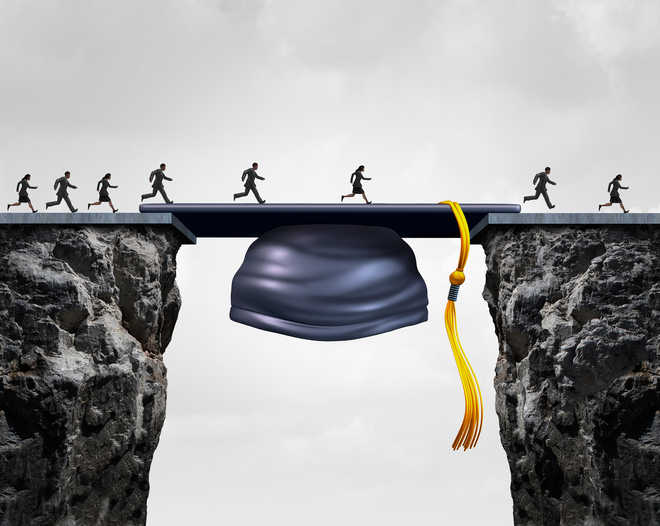 T Muralidharan
One of the biggest challenges in the campuses today is that students are making choices of jobs based the opportunities they come across and the preferences of their friends. Worsening the situation, there is a panic button at some point in time that probably, they will not land any job. Coming under this kind of pressure, many grab any job that comes their way. Now, once they start working, they realise that they don't like the job, they can't do it or don't see a future in it. They regret their decision and finally quit the job. Next, they try to land some other job.
However, during job search, they realise that employers no longer treat them as freshers. And their experience is useful only for similar type of jobs. Employers would not want to hire them for any other role except for a similar profile. Even if they are willing to hire, they will treat them as fresh graduates and not as experienced employees. That means a compromise in terms of growth and package. And in case, the experience is over five years, the candidates will not be treated as fresh graduates too, closing doors for any opportunity to shift career. This is the reason why so many people are stuck in their jobs these days. How can one get out of this situation? There are two ways to shift careers:
Get a relevant degree
Get a job role change in the same company
If you have skills necessary to assume the new job role, then you can try for a job role change within the company. Else, the best option is to pursue an MBA. MBA gives one a stepping stone for a fruitful career shift.
The concept of relevant experience limits your chances to get into other job roles. An MBA degree helps you in this situation. Another classic example of pursuing MBA for career shift is of Indian software engineers. Software professionals constitute the largest portion of applicants to premier MBA institutes. These are the candidates who have worked in the software field for some time and got frustrated with the job. They don't want to get back to the IT industry. They earn an MBA degree and get into some other job. The curriculum of MBA is designed in such a way that students irrespective of their academic and professional background can fare well at the course. The pass outs are fit to assume a managerial job in any industry. But to succeed, you should be willing to work hard and learn.
Once you have decided to shift your career, here are a few questions you must now have answers to:
To what extent do I have to make compromises in the attempt to shift my career?
First, during the two years of MBA, you will not get a salary. So, before putting down the papers, you should make sure you have a back up for your expenses. Second, you have to pay college fee. If you are joining one of the premier institutions, the amount will be significantly high. You may have to opt for an education loan if necessary.
Third, when you go back to join the industry, your past experience is of not much value. Only generic experience is considered. Pay hike is also marginal. So, when searching for a job, be willing to make at least a few compromises; that is only for a better future. Be willing to try your hand at working in different industries and job roles.
This is the reason why many MBAs try to go back to the same field they were in before joining MBA. Some even take up the same job. But their dissatisfaction with the job persists and they underperform. So, this is not an impressive idea. The purpose of doing MBA is to make yourself ready to take up a bigger role.
Skills that are carried forward
Your experience in the corporate world - as an experienced employee, you understand targets and the company structure very well. Your experience in the corporate set up, the fact that you know the limitations, deliverables and timelines is what you get value for. You do not have to be trained from the basics.
When is it the right time to do MBA?
If you are aiming to pursue a full-time MBA, then do it after 2-4 years of work. If you have close to 10 years of experience, then opt for executive MBA. You can pursue it while working. An important thing to note here is that you have to take up the MBA programme from a premier B-schools, be it for a full time course or for executive MBAs even if it is an online or distance programme.
— The writer is Chairman, TM
Top News
Also removed a full page on Political Parties from newly rel...
BKU spokesman Rakesh Tikait said final decision on issue of ...
Says the CM is protected at both these places by the Punjab ...
Said six specific cases pertaining to violent incidents to b...
The training aircraft, which took off from the air force sta...