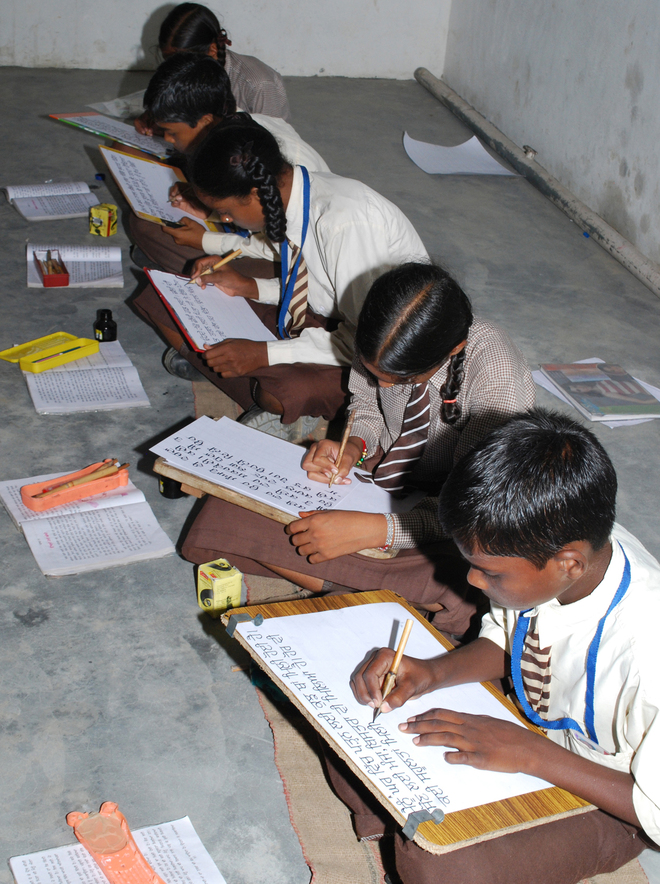 Charanjit Singh Teja
Tribune News Service
Ludhiana, September 3
Ironically, students from migrant families have been winning competitions in Punjabi calligraphy in the city. It seems Punjabi children are less interested in learning their mother tongue. A number of children from migrated families have won several inter-district and block-level competitions of Punjabi calligraphy.
There is a number of government primary schools in areas dominated by migrants, where over 70 per cent of the students belong to labourers from Uttar Pradesh and Bihar. The students not only speak Punjabi, but also take part in co-curricular activities related to folklore and culture of the state.
These students have to compete with rural students (native Punjabis) in competitions, but the motivated students end up winning against all odds.
Anjali Kumari, student of class V, Aman Kumar of class IV, Vikas Kumar of class III and Farzana of class II (all from migrant families) of Government Primary School, Jandiali, bagged first positions in their respective categories in the block-level competition of calligraphy conducted by the Punjab School Education Board (PSEB) in 2013-14.
Aman Kumar participated in the district-level competition and was runner-up this year. Now, Aman will participate in the zonal competition of the PSEB in November.
While Radha Kumari of class V from Government Primary School, Bhamian Khurd in Jamalpur area, got the second position in the district-level competition under the Parvesh Punjab Project in 2013-14.
Sahil Kumar won the district-level competition conducted by the PSEB in 2014-15. Anshika Rai and Sanjana were second runners-up in Punjabi calligraphy in the same competition.
Narinder Kumar, a teacher from Government Primary School, Jandiali, said, "Though we urge everyone to take part in calligraphy competitions, students from migrant families are keen to take part. Since they are poor, we have to arrange stationery for them."
Sukhram, a teacher form Government Primary School, Bhamia Khurd, said, "The migrant students are eager to speak and learn Punjabi."
Dr Charanjit Singh, Deputy District Education Officer, said, "Students from migrant families taking up Punjabi is a positive sign. The teachers and students should be congratulated."
Punjabi Sahit Akademi to reward such students
Sukhdev Singh Sirsa, president, Punjabi Sahit Akademi, said, "Punjabis are learning Hindi and English to find employment in national and international markets. But the children of migrant labourers are keen to learn Punjabi as it is the language of the local market. We will reward these students on International Mother Tongue Day on February 21."
Top Stories