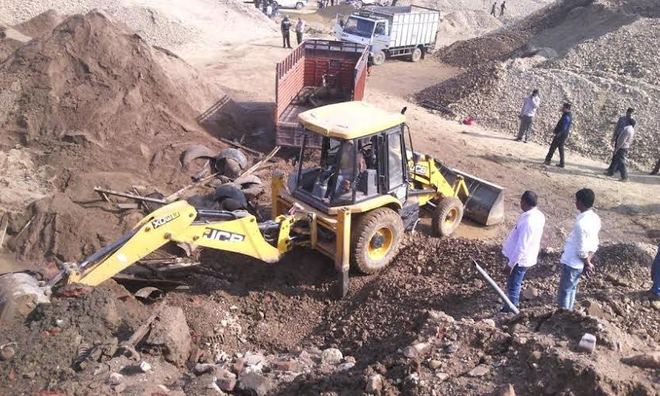 Ravinder Saini
Tribune News Service
Mahendragarh, October 22
In all, 250 green kikar (acacia) plants were allegedly damaged by a private mining company in Dokhera village in Nangal Choudhary recently.
Taking a serious note of the incident, the Forest Department has served a notice on Xandy Mines Company asking it to pay a penalty as per norms.
The incident came to fore when villagers spotted the trees lying at the mining site and approached the department for action.
Sources said the company had taken a mining site on lease to carry out mining activities. There were hundreds of small size trees at the site but they had been buried under debris dumped by the company.
However, the villagers alleged that the trees had deliberately been uprooted by JCB machine as they were causing a hindrance in mining activities.
"Not only in Dhokhera but also in several other parts of Aravali hill, mine leaseholders are deliberately posting a serious threat to the environment by uprooting or destroying green trees but the authorities are turning a blind eye towards it," said a villager.
Abhay Singh, Forest Officer at Nangal Choudhry Range, confirmed that the company had been put on notice and asked to pay a fine of Rs35,000 for violating Indian Forest Act, 1927.
"Around 250 undersized kikar trees were found dead when our team conducted on-the-spot inquiry. The trees died as they had been buried under the debris dumped by the company. The case will be placed before the Environmental Court in Faridabad if the company fails to deposit the penalty," he added.