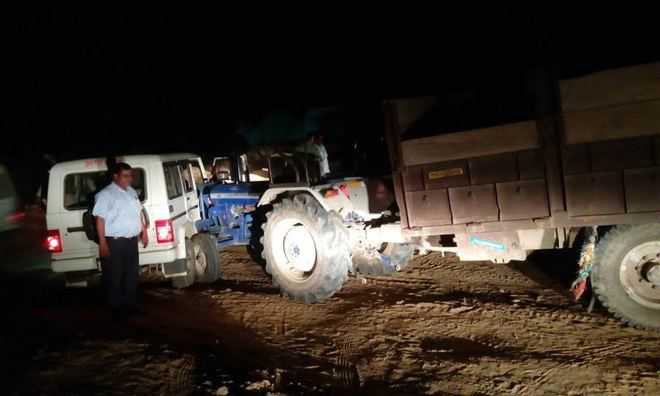 Ravinder Saini
Tribune News Service
Narnaul, May 12
Mining Officer Rajesh Sangwan had a narrow escape last night when the mining mafia not only opened fire at him and accompanying staff, but also rammed a tractor-trailer into his official vehicle probably to kill him.
The incident occurred around 11 pm when Sangwan along with Mining Inspector Rajesh Kumar and other officials conducted raids at Nangal Peepa village following a tip-off about illegal mining there during night hours.
Mahendragarh Superintendent of Police Hamid Akhtar rushed to the spot along with a police posse and seized a JCB machine, tractor-trailers and other equipment being used for mining. However, the accused who opened fire and other workers managed to escape.
"As soon as Sangwan reached the site where illegal mining was going on, one of the workers opened fire at him but missed the target," said Akhtar, adding that one of the accused even made an unsuccessful attempt to crush the officer to death by hitting his vehicle with a tractor-trailer.
The police officer said along with three DSPs, several inspectors and other police staff reached the spot and conducted raids in the village.
"The men working there managed to escape. Mining equipment has been confiscated and a case has been registered against several unidentified persons," said Akhtar, adding that efforts were on to identify and arrest the accused. He said a special campaign was being run against the mining mafia these days.
Five illegal gravel washing plants have so far been removed, besides registering cases against several people for their involvement in this illegal activity, he said.