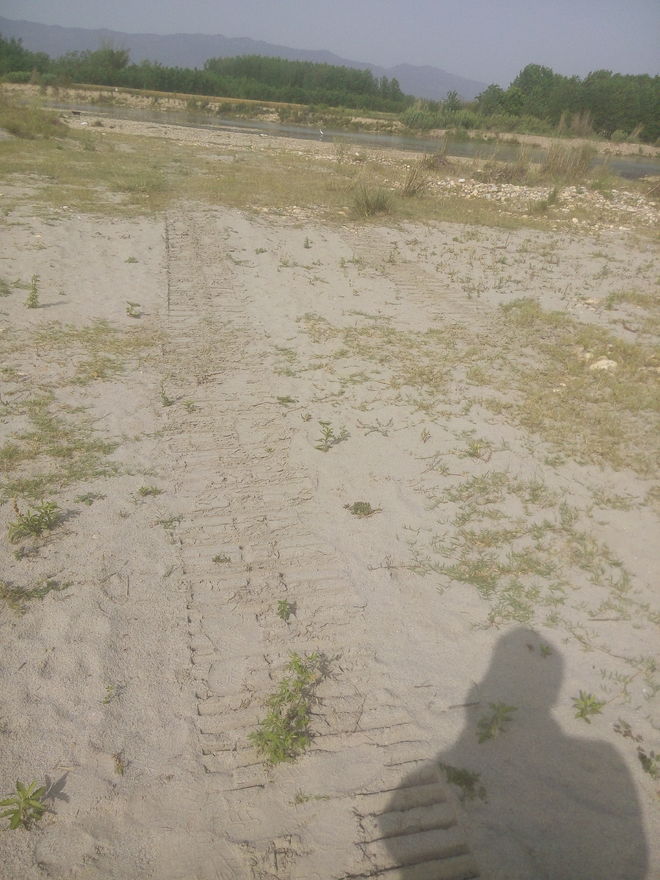 Arun Sharma
Tribune News Service
Ropar, April 23
Illegal mining has been continuing unabated in Ropar district despite a hue and cry by the public here. The involvement of huge money, vested interests of a section of local people and political patronage proved stronger than any measure taken up by district administration (albeit half-heartedly) to check it.
Political parties can be seen trading allegations on the issue, but the fact remains that many from major parties, including the Congress, BJP and the SAD, have stake in the illegal business. Mining Minister Madan Mohan Mittal belongs to this district and he represents the Anandpur Sahib Assembly constituency.
The district has 232 crushers, many of which are operational without any permission. According to rough estimates, at least 50 truckloads of material is supplied by each of these every day. These crushers receive the required material from neighbouring Himachal Pradesh as well. The supply is mostly local, but its volume is much more than what is supposed to be extracted from six operational quarries at Surewal, Kiratpur, Bhalan, Algran, Dayapur and Palasi villages. "Goonda" tax is also a reality in the district.
RTI activist Dinesh Chadha who often raises voice against illegal mining and "goonda" tax said legal mining being conducted in a small portion of the district had proved to be a camouflage for the illegal trade. The volume of sand and gravel extracted from here was many times more than what the contractors were allowed to quarry, he said.
Satya Devi and Bhagwati Devi, owners of more than four acres at Surewal village, said a contractor from Anandpur Sahib got contract of quarrying sand from the mines near their village. One day, they noticed that the sand was being lifted from their land, thus creating a big crater there. When they protested, the said contractor offered them a price against permission to lift sand from their land, they said. An agreement was signed between them and then the contractor dug out sand from there. Now whenever they made a phone call to the contractor to demand the agreed amount, they were told that he was not available, they said.
The contractor was allowed to dig up to 10 feet only. But he dug much deeper and now it was not possible to measure the exact depth of the crater as it was flooded with underground water, said Shyam Sunder, Bhagwati Devi's son.
At Kiratpur Sahib, residents of nearby Chandpur village have been spending sleepless nights for the past many years as there was heavy machinery at work throughout the night to extract sand and gravel from the Sutlej. To camouflage their misdeeds, unscrupulous elements first collect the material at some crusher during the night and shift it during the day, portraying it as an old stock.
No villager dares to raise a voice against the sand mafia. Though several villagers confirmed that mining was done in the Sutlej near their village every night, none of them was ready to divulge names of the offenders. A villager, however, agreed to show the route to the river used by the sand mafia. He himself disappeared at least one km before the destination, saying that going any further could create problems for him.
A resident of adjoining Gajpur village said they went to the local police station six months ago requesting to put a check on the illegal activity near their village. The police official present there, however, expressed his helplessness saying they were people of very influential politicians, he alleged.
The illegal mining, however, was not restricted to this part of the district. The writ of sand mafia also runs large in Bharatgarh, Nurpur Bedi, Ropar and Chamkaur Sahib areas.
Residents of Nurpur Bedi area staged several dharnas protesting against illegal mining and damage to roads due to plying of heavy machinery and tippers in the area, only to face disappointment at the hands of the police and the district administration.
The contractors are allowed to extract a little over two lakh tonnes of sand and gravel per annum from the six allotted quarries. Toll plaza officials at Nakkian, near Kiratpur Sahib, said more than 5,000 tippers carrying a minimum of 30 tonnes of sand and gravel pass through that area every month. These calculations confirmed that at least 1.5 lakh tonne of sand and gravel was being ferried from Nangal and Anandpur Sahib to other parts of the state and neighbouring Chandigarh and Haryana every month.
Ropar SSP, however, denied that the police had failed to check illegal mining. "We have deputed a permanent force with the Mining Department so that they can take prompt action against offenders. Around 15 complaints have been registered during the past three months," he added.
General Manager of the Mining Department Tehal Singh Sekhon said action was taken whenever they got any information about illegal mining. There was a shortage of staff in the district. "The district has only eight guards to keep account of the material being extracted from six mines and to check illegal mining. One officer looks after Nurpur Bedi, Chamkaur Sahib and Morinda blocks, while another has been handed over the responsibility of Ropar and Majri blocks in Mohali district. A woman block-level officer is deputed at Nangal and Anandpur Sahib, where all operational six quarries are situated," he added.
Top News
The slab constructed on top of an ancient `bawdi' or well co...
Trump call it 'political persecution and election interferen...
India is likely to end this fiscal year with total exports o...