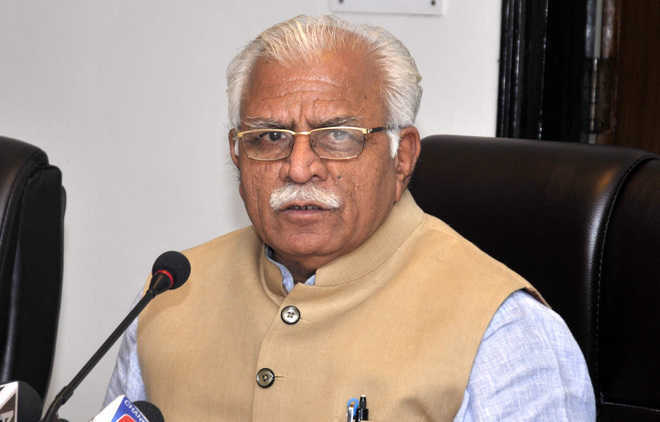 Naveen S Garewal
Tribune News Service
Chandigarh, February 27
Nearly a dozen BJP MLAs from southern Haryana have lodged a complaint with the party high command of "being ignored in their own regime", it is learnt.
Ahead of the state's Budget Session, that got underway today, party national president Amit Shah asked Chief Minister Manohar Lal Khattar to resolve the MLAs' grievances, lest the party faces embarrassment on the floor of the House.
(Follow The Tribune on Facebook; and Twitter @thetribunechd)
Khattar called the MLAs to his residence this morning. Since the talks remained inconclusive, he scheduled another meeting in the evening but seemingly dissatisfied by Khattar's response, the MLAs decided to skip it and sent two representatives. They too returned without any "satisfactory resolution".
Sources said the "annoyed" MLAs told the CM that corruption was rampant in the state and while the ministers were "busy misusing their authority", the MLAs could not even get the smallest of works done. "The DC and SPs do not even take an MLA's phone." They told the CM that the BJP government should be run by all 47 MLAs and not just the ministers.
In a House of 90, BJP has 47 MLAs and enjoys the support of five MLAs (four Independents and one BSP), who have supported the group "unhappy" with Khattar. INLD has 19 legislators, Congress 17 and Akali Dal one.
The MLAs threatened to raise the issue of corruption in the House even as BJP's Haryana incharge Dr Anil Jain called Rewari MLA Randhir Singh Kapriwas last evening and dissuaded him from any such action. Gurgaon MLA Umesh Aggarwal then called Amit Shah, who is campaigning in UP. Shah reportedly assured Aggarwal of resolving their grievances once he is back on March 11, while asking them to desist from anything that creates trouble for the government.
The 12 MLAs then met Khattar and vent their frustration "of being treated like Opposition MLAs".
Khattar, sources said, preferred to listen rather than respond. The group is also learnt to enjoy the support of at least five ministers, unhappy at the CM's "headmaster-like" attitude.
Top News
The former military ruler had left Pakistan in March 2016 fo...
After his failed misadventure in Kargil, Musharraf deposed t...
Military shoots down the surveillance balloon in Atlantic Oc...
The incident took place on Friday when Kambli reached his fl...
Dearness allowance for employees and pensioners are worked o...