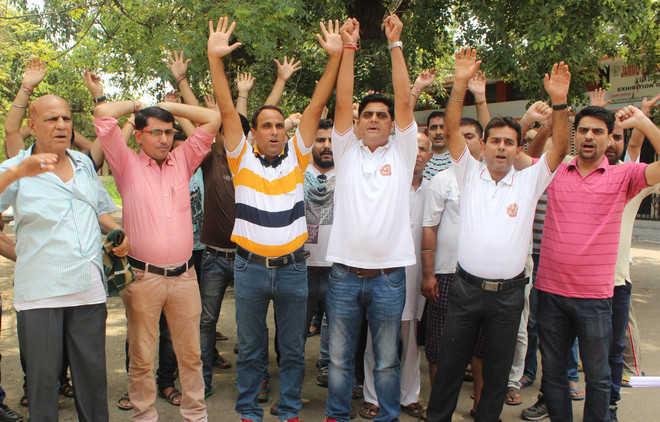 Sumit Hakhoo
Tribune News Service
Jammu, July 10
Kashmiri Pandits have been subjected to concentrated attacks by rampaging mobs across the Kashmir valley following the death of terrorist Burhan Wani in an encounter with security forces at Kokarnag on Friday, creating fear psychosis among the community who are now considering migration.
Reports emerging from the Valley highlight the precarious situation of more than 2,000 Pandit employees who returned to the Valley in 2010 under Prime Minister rehabilitation package.
Attacks at transit camps at Haal (Pulwama), Vessu, Mattan (Anantnag) have refreshed the memories of 1990s for the Hindusin the Valley.
Eyewitness accounts explain the harrowing experience of inhabitants at the Haal transit camp which saw heavy stone-throwing by a mob which also made repeated attempts to enter the camp which houses several women and children.
After the word of Burhan's death spread, villagers surrounded the transit camp and subjected it to a heavy stoning. In the first wave, a few security force personnel and Pandit youths forced the mob to retreat. However, again at 10:30 pm, the attack was commenced from three sides, with many making attempts to enter. It was again thwarted after police personnel fired in the air.
Employees posted in Handwara, Baramulla, Pattan, Sopore and Anantnag, the epicentre of present turmoil, are feeling uneasy with developments in the Valley.
"We thought it was end now as the people had encircled us. The pre-fabricated huts were totally damaged in the stoning. It was for the braveness of some youths and security personnel that families are safe," said another employee from the Haal camp. Most of the employees are still struck in the camp awaiting evacuation.
Though senior police officials maintained that efforts were being made to strengthen security for minorities, the community was living in constant anxiety, despite having cordial relationship with Muslim villagers surrounding their transit camps till now.
Top News
Bills were passed after more than six hours of debate spanni...
Among the 10 who put in their papers are nine Lok Sabha MPs,...
Resignation of Union ministers also revived speculation of r...
The withdrawal of statement by MP Senthil came when the Hous...
'In Pranab, My Father: A Daughter Remembers', Sharmistha Muk...