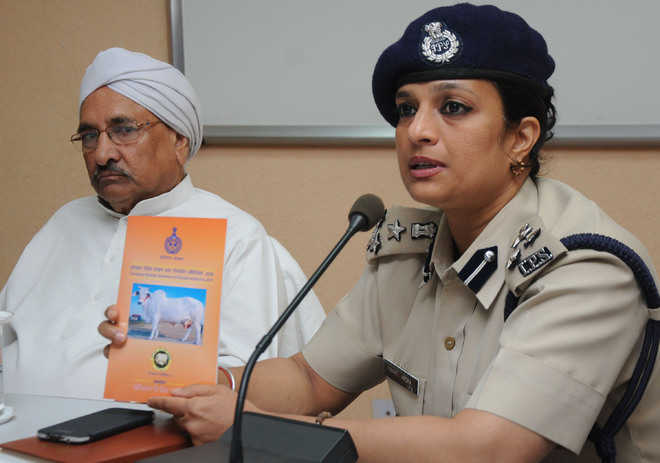 Tribune News Service
Karnal, August 29
Deputy Inspector General (DIG) Bharti Arora, special presiding officer of a police squad for curbing cow smuggling, has claimed cow smuggling and slaughtering is an organised crime and money from it is used in terrorism.
"Cows are smuggled from Rajasthan, Gujarat, Haryana, Punjab and other states to Bangladesh via Uttar Pradesh and West Bengal. The BSF works hard to check smuggling. The UP and West Bengal police had unearthed such gangs in 2008," she told the media here today.
She was in the city for a meeting of the district task force that was formed to curb cow smuggling. Gau Sewa Aayog chairman Bhani Ram Mangla and Superintendent of Police Pankaj Nain were present at the meeting.
"Under the Haryana Gauvansh Sanrakshan and Gausamvardhan Act, 2015, cow slaughter, and consumption, sale and storage of beef is prohibited. The violation of the Act calls for rigorous imprisonment ranging from three years to 10 years, and a fine of Rs 30,000 to Rs 1 lakh," Arora said.
"The routes for cattle smuggling are Gujarat to Mewat via Rewari and Palwal, Gurgaon to Mewat, Jhajjar to Mewat, Punjab to Bhiwani, Punjab to UP via Karnal, Kurukshetra and Yamunanagar, and Punjab to Uttar Pradesh via Panchkula," she said.
On stray cattle menace, she said the police squad with the help of the Gau Sewa Aayog and Animal Husbandry Department would start tagging stray cattle.
Arora urged people to carry a certificate from the Animal Husbandry Department while transporting livestock. "The certificate from sarpanch will be invalid."
Mangla said there were around 430 gaushalas in the state, in which around 3.17 lakh cattle live. "Around 1.2 lakh cattle are roaming on roads, leading to accidents. Five cow sanctuaries are being built in Bhiwani, Sirsa, Hisar, Panipat and Yamunanagar to curb the menace of stray cattle."
"Around 40 per cent of bulls in gaushalas have been sterilised. We are planning to send the bulls to Maharashtra, where the bulls are used for farming," he added.