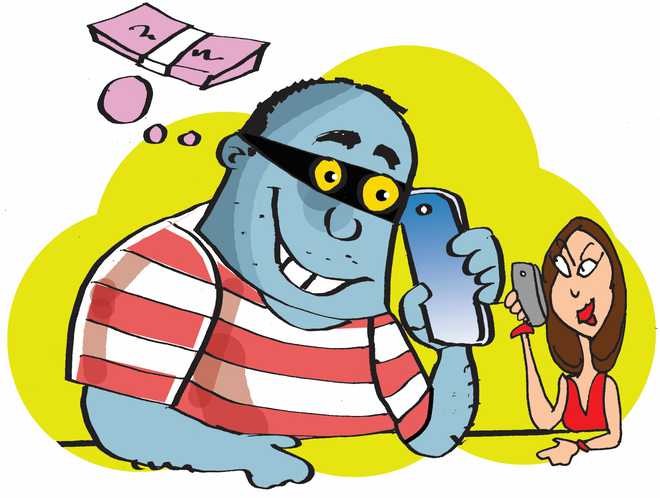 Aradhika Sharma
The matriarch looked up from the paper and chuckled — a rather unusual occurrence this early in the morning, when she deigns, in impassive silence, and communicates solely with her tea and newspaper. Only a hardened masochist (the likes of who thrust their hands in a hornet's nest for the sheer joy of it) will try a conversational gambit with her then. It was, thus, startling to hear the cheery chortle.
"She fell for it!" she exclaimed delightedly.
"Who? Fell for what?" I should have known from her untimely glee that some poor soul had 'fallen' from grace or fortune.
"The CM's wife! She fell for the oldest trick in the world," she grinned.
"It fills up my heart to see how you empathise with your fellow human, but do tell what happened."
"It says here in the paper that she fell prey to cyber fraud, losing Rs 23 lakh to a scamster who duped her through a mobile phone call, posing as a bank manager." Declared the dowager: "I don't know how she allowed herself to be tricked. She should read the news more carefully. These cases come out in the newspaper every single day."
"I guess she didn't imagine that anyone would dare to con her."
"Arre! Why not? Elderly ladies are a prime target. I get calls every single day, but do I get taken in?" the materfamilias demanded imperiously.
"Do you? You should block those numbers."
"Oh no! I have great fun with the callers as long as they call at an appropriate time and don't disturb me when I'm watching TV or napping or playing cards."
"I'm sure no chalu charlatan would dare be so impertinent as to disturb you at rest and play," I responded drily.
"I'm pretty clever, waise," she crowed. "One fellow called me to saying that he was the bank manager and my account was about to expire, so could I share my account number? I said to him; 'Sure beta, I'll do that immediately and while I'm about it, why don't I give you my ATM card number and its PIN as well? I was just contemplating complete renunciation of worldly goods.'"
Inspired by the narration of her wit, she continued: "Another time, a girl called me claiming that there was an unclaimed FD in the bank worth Rs 10 lakh. She asked to speak with your father, explaining that he could retrieve the money by giving some account details. I trumped her by saying, "Of course, I can give you his address in heaven. And when you visit him, meri bhi baat karva dena."
"Slicker than the slickster, eh?" I laughed.
She smiled smugly.
"But you fell for the guy who came to polish your gold and ended up making your bangles much lighter!" I reminded her.
The matron was miffed: "Achcha! And what about the time when you bought 25 kg 'fresh' honey, supposedly straight from the hive, but, turned out to be just sugar water?
No one outwits the oldie! I'm almost empathetic with the phone scamsters!
Top Stories